McPeake ready to celebrate Christmas with Lisburn concert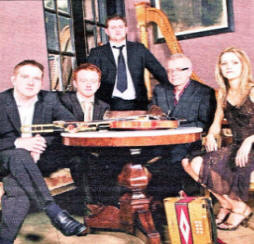 MCPEAKE, Ireland's premier 'Contemporary and Traditional Folk Musicians', will he helping local people to celebrate Christmas with a special Christmas Concert in Lagan Valley Island on Thursday December 17 at 8pm.
The band is returning home after touring the USA extensively throughout 2009. McPeake have been from New York to Los Angeles, Chicago to Nashville but can't wait to perform to their home audience during this festive season.
This seasonal concert series combines Christmas music from Ireland and popular carols with instrumental numbers, upbeat dance tunes and original McPeake compositions to celebrate the Christmas season.
Season
Francis McPeake, the fourth generation of the renowned McPeake Family, stated: "Christmas in Ireland has always been about music and family gatherings; spontaneous music and song in loved ones homes throughout the land were common place of times gone by. This Christmas Concert series is a wonderful opportunity for everyone to gather together to welcome in this Christmas season and drive the cold winter away with some toe tapping tunes and beautiful Christmas melodies."
For generations of folk music enthusiasts the name of the McPeake Family of Belfast has stood for one of the most distinctive sounds in Irish music. Francis McPeake IV put together a revived band, 'McPeake', which is unique in the world of music with its fusion of original Celtic compositions and contemporary rhythms and styles. McPeake are debuting a new EP for their Christmas Concert featuring live performances recorded at their previous appearance at Down Arts Centre.
McPeake has been performing to sell out audiences throughout the North and to avoid disappointment, early booking is advised.
For further information or to book tickets, priced £10 (adults) and £9 (children/concession/student) please contact the Island Arts Centre box office on 028 92 509 254.
Ulster Star
04/12/2009