BORN TO DANCE
Teachers pride as Melissa takes starring role at Royal Ballet
by SARAH TOLAND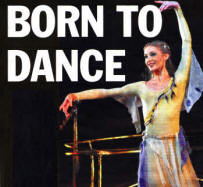 MANY little girls dream of being a ballerina. And for one Dromore girl that has become reality as the dance world marvels at an amazing new talent.
Melissa Hamilton dedicated every waking hour to perfecting her dancing and now she it to take the lead in the Royal Ballet production of Mayerling at the age of just 21.
And when she steps out on the stage it will be a particularly proud moment not just for Melissa and her family, but for dance teachers Jennifer Hall and Fiona Campbell who helped the helped the young Melissa take her first steps when she began ballet at four.
What is now the Island Ballet Centre was still The Jennifer Bullick School of Dance in The Bridge Community Centre when Melissa started attending.
Leaving Northern Ireland at the tender age of 16 to pursue her dreams, Melissa wanted to share her talent with the world. Her proud dance teacher, Mrs Hall said it was clear Melissa had a rare talent but she still worked tirelessly every single day. "Most girls take up ballet as a hobby, it's very unusual for young girls to want to study the art of ballet more seriously" she said.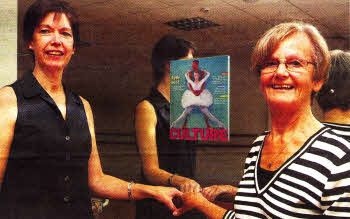 Jennifer Bullick-Hall and Fiona Campbell with the front cover of the Sunday Times' Culture magazine featuring Melissa Hamilton. US3809-11OAO
"She was always the most dedicated and practised every single day. Most people go to one class a week but Melissa attended up to three classes and never failed to miss her vocational training on a Saturday."
Mrs Hall continued: "She auditioned for Royal when she was 16. She made it to the top 25 but narrowly missed out on the top 20. Melissa was short listed for three Ballet Schools and finally awarded a place at the highly acclaimed Elmhurst Dance School in England which has affiliations with The Royal Ballet Academy.
"It was fantastic to get her into such a top school. She only had one professional exam left to do as she completed the rest with us back in Lisburn. We gave her a lot of technical training which, I feel, has prepared her for a tough and challenging career."
Mrs Hall, who has taught ballet for 35 years, took on freelance teacher Fiona Campbell in 1997 and together they worked closely with Melissa, perfecting her art and helping to make her the star she is today.
Mrs Hall said: "At the Island we give the dedicated girls a chance to take on a vocational course on a Saturday. Very few small ballet schools give girls the opportunity which is a syllabus designed to help those going on to professional ballet."
"My school only took girls but she will learn so much more in London working with boys. I'd like to think we gave her a good base though."
Fiona Campbell, who joined The Jennifer Bullick School of Dance when Melissa was 9, took over the school in 2004 and has moved the classes over to Lagan Valley Island Centre. As principal of the school since 2004, she has changed the name to The Island Ballet Centre but she and Jennifer still work closely together to find Lisburn's next ballet superstar.
Ms Campbell, a former grades examiner and trustee at the Royal Ballet for nine years, said it was rare for anyone to succeed so quickly in England as Melissa.
"Many professional ballet dancers have been
effectively full time since they were 11, Melissa went full time at 16 so to achieve so much success so soon is extremely unusual. "I don't think I will ever see it again in my lifetime. It takes someone with a very unique talent to leave a local ballet school at 16 and at only 21 to have already attained lead roles in the Royal Ballet. It is virtually unheard of." Since clinching the lead in the Royal Ballet's production of the dark romantic Mayerling Melissa has achieved international stardom but Ms Campbell fondly remembers the young dancer and her huge commitment. "I'd like to think we played a part in helping her to success" she said.
"We try to get the best out of every pupil and we are hugely passionate about our work. Jennifer and I, I believe, planted the seed but it was Melissa's talent and dedication to her art which has got her to where she is today. She gave her soul to ballet and the result is very special to watch."
Ulster Star
18/09/2009