Devastated family says heart screening could save young lives
by MARY MAGEE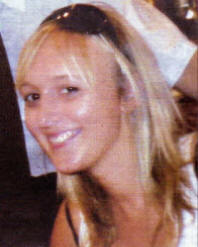 THE FAMILY of a young university student from Lisburn who died of Sudden Cardiac Death Syndrome will feature in a documentary showing on UTV on Monday night called After Aaron'.
Michelle Sinclair, from Old Hillsborough Road, was just 20 when on January 22, 2007 she collapsed hours after returning home from a night out with friends in Newcastle-Upon-Tyne.
Described as 'bubbly' and 'vivacious', Michelle was a first year business management student at Northumbria University and had been to a Newcastle United footballer's house earlier when she suffered severe breathing difficulties.
The former Banbridge Academy pupil was given treatment in an ambulance but later died in Newcastle General Hospital.
When news of her death hit the headlines, all sorts of allegations emerged including drink and drug taking, allegations her family, who knew the truth, found hard to deal with.
Friends said Michelle had been talking to them when suddenly, without warning, she collapsed. At first it was thought she had suffered a fit and the emergency crews were called.
It later emerged she had suffered up to 40 heart seizures.
A post-mortem concluded that no drugs substances or alcohol were present in Michelle's system and that it was most likely to have been a heart defect leading to sudden cardiac death.
An inquest that November put Michelle's death down to 'natural causes', but the family feared she had been suffering an undetected genetic heart defect. A member of Kim's family had died suddenly, from a heart attack at the age of 30 and the family - Kim, father Trevor and brother Kyle - decided to get screened .
Trevor and Kyle were given the all clear but doctors discovered Kim had an irregular heart rhythm and prescribed beta blockers to regulate her heart and fitted with a defibrillator.
Ironically Kim had been tested for heart defects when she collapsed 15 years ago after suffering a sore head, and although she had a series of tests and an ECG, nothing was detected.
Kim explained: "I have been told that my heart may never affect me. As it was described to me, it's like the electrics in a house - it may go on for 100 years and nothing happen but at any stage there could be a slight short."
Michelle, who Kim described as a great girl with a lively personality and a real zest for life, had been home for Christmas a few weeks before she died and had told her mother she had been suffering from indigestion problems. Kim now believes that may have been an indication of her heart complaint. Michelle had also told a friend she had a sharp pain which later disappeared. "There may have been wee signs but I just do not know," said Kim
Kim is keen that people should consider screening.
"The option is there - it may save a life," said Kim who has been involved with the work of CRY Caridac Risk in the Young which promotes screening for young people at risk of cardiac problems.
"I really do not want to scare monger but we as a family know what we have gone through and we believe that everyone should take advantage of screening.
"There are screening facilities at Jordanstown University and it would be great if no other family had to go through the pain and heartbreak that we came through.
'Already there are too many of us and as responsible parents we need to do something now to prevent many more young lives being lost.
"If screening can stop another family going though what we went through then it is worth it."
After Aaron' produced by Threesome Productions will be aired on UTV at 11pm on November 2 and looks at sudden cardiac death among young people in Northern Ireland.
It centres on the story of 19-year-old Aaron Lundy who was diagnosed at 16 with Wolfe-Parkinson-White Syndrome. He was told his condition was nothing to worry about, that he should live a normal life. However three years later he was dead.
Through this tragic story, this programme looks at the human cost of sudden cardiac death and examines the wider political and medical issues surrounding population-based screening. After Aaron' takes the audience on a journey with the family and friends of loved ones lost to sudden cardiac death and to raise awareness about this silent killer that has taken lives all over Northern Ireland.
Michelle Sinclair
Ulster Star
/2009