MUGGED AS SHE LEFT WI
Robber leaves 82-year-old with a broken arm and hip after stealing £10
by MARY MAGEE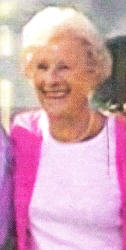 A ROBBER has left an 82-year-old woman with a broken arm and hip after mugging her for just £10 in cash and a mobile phone as she left Hillhall WI's Christmas party on Tuesday night.
Beatrice Thompson, from Pond Park, had just left the Braniel Hall following the meeting and was standing chatting to four of her friends in the unlit car park at around 10.15pm when one of women noticed a man running towards them.
He ripped Mrs Thompson's handbag from her shoulder and following a struggle she fell to the ground. The thief also attempted to steal another handbag but failed.
Beatrice was taken to Lagan Valley Hospital and then transferred to the Ulster Hospital in Dundonald on Wednesday where she underwent a three-hour operation. She has been told that she will have to remain in a wheelchair for up to eight weeks.
Her daughter Helen Lynn said the whole family have been left devastated by the brutal theft.
She is in hospital now and is undergoing a huge operation and all the cash she had in her bag was £10," said Helen.
"It is terrible that she has to go through such an awful ordeal. Anyone who knows her knows that she is a such a very kind and considerate person. "One of her first concerns was not for herself, she was worried she was letting people down because she would not be able to attend a prayer healing at First Lisburn and she had to get a replacement for the prayer space on Monday at an event run by the city centre churches.
"I would love the people who did this to see what they have done to my mother and ask themselves if it was their own mother or grandmother would they like this to happen to them. "Mother is a very determined person and this will not put her off. She is trying to keep strong." Helen said the family have been inundated with wellwishers. "Many people have called from church and people who know her just to ask how she is. It is just incredible" she said.
"We are a Christian family and we have very good Christian faith. God has been very gracious.
"To my children their granny is their world and we went in to see her today. It is devastating for them, they are just totally shocked."
Police are appealing for anyone travelling on the Hillhall Road between 10.00pm and 10.30pm on Tuesday night and who noticed any suspicious activity in the area of the Braniel Hall, or the Ballymullan Road, or anyone with information about the incident to contact detectives at Lisburn 0845 600 8000. Alternatively, information about crime can be passed anonymously to the Crimestoppers charity by calling 0800 555 111.
Police gather DNA evidence after theft from pensioner
A MAN in his 90's had cash stolen after a thief claiming to there to deliver oil got into his house on Tuesday afternoon.
The robber called at the man's Magowan Park home in Annahilt around 3.50pm and after getting in ransacked a room and made off with the man's wallet and a sum of cash. Police say they have a detailed forensic footprint and have taken DNA from the scene.
Chief Inspector David Moore of Lisburn PSNI called the man who targeted the pensioner a 'coward'.
"The man was very upset after the incident" he said. "There was no violence but the pensioner was left very badly shaken."
Mr Moore urged vulnerable people especially the elderly, never to open the door to anyone unless they are satisfied they know the caller.
"Ask for ID, get a door chain and if you are not happy just do not let them in," said the Chief Inspector.
He urged anyone who may have a cold caller to use the Quick Check number, a free phone number 0800-0132290 where the operator will check the identity of anyone who calls at your home.
The man made off in a large vehicle, believed to be grey or silver in colour, with a sum of cash.
Lisburn police, are asking anyone who may have seen a male acting unusually in the Magowan Park area on Tuesday between 3pm and 4pm, or anyone with information to get in touch on 0845 600 8000.
Alternatively information about crime can be passed anonymously via Crimestoppers on 0800 555111.
Ulster Star
18/12/2009