MLA welcomes opening of flyover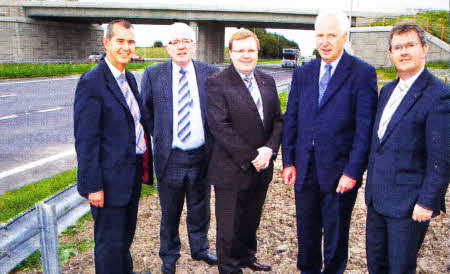 Edwin Poots MLA, Lisburn Mayor Allan Ewart, Jonathan Craig, David Reid, chairman of Hillsborough Village Committee, and Jeffrey Donaldson MP at the new Al fly-over at Hillsborough which opened this week. USO937-548cd
LAGAN Valley MLA Edwin Poots has welcomed the opening of Hillsborough flyover.
"There had been increasing local frustration that the new structure which appeared to be finished in June remained closed over the summer," said Mr Poots. "In particular residents on the Ballygowan Road have had to put up with considerable disruption for a prolonged period, with local bus services disrupted keeping children late for school. This will be remedied immediately as a result of the flyover opening.
"It is widely accepted that it will substantially improve road safety for Hillsborough residents and visitors as well as reducing vehicles travelling through the village to access the dual carriageway at the roundabout.
"The dual carriageway has been found to be dangerous at crossing points given the speed that vehicles are travelling. Traffic volume has grown consistently over recent years making it nearly impossible to cross the carriageway at peak periods.
"This has been a significant local investment of around £4 million achieved, as local representatives we will continue to work for further investment in the local area," he concluded.
Lagan Valley MP Jeffrey Donaldson also welcomed the opening of the fly over saying that he is "delighted that at long last the flyover is open to traffic".
He commented: "This new flyover will make it more safe for motorists and will help the flow of traffic on the Al."
Mr Donaldson also explained that he would continue to monitor the situation of heavy goods vehicles taking shortcuts from Hillsborough Village to Culcavey and will be continuing to discuss this with Roads Service. He added that with the flyover coming to fruition he hopes this well help "lives being saved".
Ulster Star
18/09/2009