New principal delighted to be back on home ground
by JULIE ANN SPENCE

julieann.spence@ulsterstar.co.uk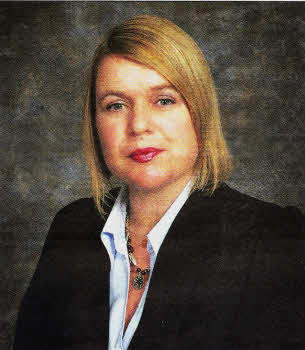 AS the new pupils at Wallace get used to finding their way around, their new principal is settling in well and enjoying being back in her home community.
Mrs Deborah O'Hare, who is from Lisburn and still lives in the area, is a former pupil of Friends School and, having taught at various schools throughout Northern Ireland, is delighted to be back on home ground and has been warmly welcomed by everyone at the school
After completing her degree at Queens University, Mrs O'Hare spent a year working in Paris and she still retains her love of all things French. After moving back to Northern Ireland she taught in a number of grammar schools, including Banbridge Academy and Methodist College, before taking on the post of Principal at Portadown College three years ago.
Since her appointment at Wallace in April, she has been getting to know the staff and students and has been very impressed with life at the school.
"It is nice to be back in the community I know so well," said Mrs O'Hare. "I have been coming in and out since April and I have settled in very quickly.
"The young people here are extremely open and enthusiastic about learning and have a great sense of pride about their school. "The teaching and non teaching staff are really expert," she continued. "Their enthusiasm and dedication is second to none.
"I have also enjoyed going down to the Prep department. It is nice to be in a school with a 3-19 year old campus."
Mrs O'Hare said she was also impressed by the level of extra curricular activity and the maintenance of the school estate. She confesses the only drawback of her new position is the increasing traffic congestion in Lisburn. "The only thing I don't like is the traffic around Lisburn," she joked.
Following great changes in the education system over recent years and the increasing level of administration, Mrs O'Hare won't be able to be a teaching Principal, and she admits she misses teaching students. "I think all principals miss teaching. We are in a time of unprecedented educational change and it just wouldn't be possible."
Mrs O'Hare will be working to implement the school's existing development plan and said she would "respect and value what has come before and spend time understanding the culture of the school." There has been much confusion surrounding the transfer from primary to post primary schools in recent years, following the axing of the 11+ and Mrs O'Hare is very clear about her views on academic selection. "We are retaining academic selection," she stated. "The fact that I have worked in grammar schools my whole career shows how I view academic selection. We are working with other schools to make sure our admission criteria is clear and fair and that parents can understand them."
Mrs O'Hare concluded by saying that the young people would always remain at the centre of everything that happened at Wallace. "The consultation of young people is at the heart of my message," she said. "I would like to see more celebration of young people's success."
julleann.spence@ulsterstar.co.uk
Ulster Star
18/09/2009