No dribbling as IFA bigwigs turn decorators to help local family
by STACEY HEANEY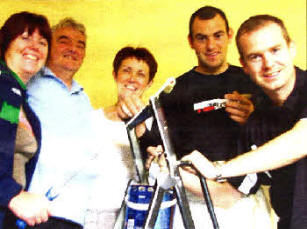 THERE was a surprise for a Lisburn family last week when members of the Irish Football Association's Positive Futures charity - including the soccer body's chief -turned up to help decorate their home.
Positive Futures, a local charity which supports people with a learning disability, is one of the IFAs 'Going for Goal' charity partners.
Last week IFA staff, including new Chief Executive Patrick Nelson, became painters and decorators for a week, to assist the Brown family in a very practical way.
Widower Paul Brown, who has health problems, has been the sole carer of his two sons - including Neil who has a learning disability and epilepsy - for many years.
Positive Futures' Lisburn Families' Service has supported the family for nine years and the charity says that its partnership with the IFA gave them a great opportunity to provide the family with some additional, practical support.
Geoff Wilson, Head of Communications at the IFA, who also worked on the project said, "Positive Futures community-based work with disadvantaged and vulnerable people was one of the reasons we chose them as a charity partner. It's great to see Going for Goal achieving its goals in the community in such a worthwhile and practical way."
Paul explained how much the support of Positive Futures and the IFA means. He said: "Since my wife Jennifer died my health deteriorated, Neil developed epilepsy and we let things slip over the last few years. The state of the house was really getting me down and I grabbed this opportunity with both hands. The IFA and Positive Futures have given us a new lease of life and something to look forward to."
The Going for Goal partnership provides Positive Futures and the other .charities involved - Mencap and the Prince's Trust -with fundraising opportunities and gives the IFA and its staff the opportunity to support the work of its partners in their local communities.
stacey.heaney@ulsterstar.co.uk
Ulster Star
30/10/2009