Local adventurer begins record breaking climb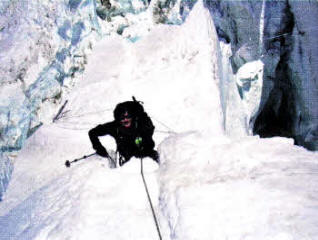 LOCAL adventurer Noel Hanna, who conquered Everest with his wife Lynne earlier this year, is gearing up for the final leg of his Guinness Book of Records 'Seven Summits to Sea Level' challenge while raising funds for the Ulster Cancer Foundation (UCF).
Noel set off on Thursday (December 10) to embark on the last charity climb of the seven-leg journey -attempting to reach the highest peak on all seven continents followed by top speed descents to sea level by means of human power.
This last climb involves a seven week expedition in Antarctica where Noel hopes to scale Mount Vinson which stands at 4,897mts and then ski 300km to the sea at Hercules inlet. World famous explorer Sir Ranulph Fiennes, who met Noel and Lynne on the summit of Mount Everest on May 21, 2009, said: "I have crossed Antarctica and I am very aware of the harsh conditions and the extreme and lonely challenge which lies ahead. Noel is an outstanding climber who is focused and determined to set a new world record. He has terrific motivation as he is using the climb to raise funds for the Ulster Cancer Foundation to improve the outlook for people who have been affected by cancer — a cause close to my own heart. I am delighted to offer my support and I wish Noel every success in his world record attempt." Noel will face freezing winds, -30 degree temperatures and extreme isolation during the challenge.
"Climbing the seven highest summits on each continent has captured the imagination of many people," said Noel. "Almost 200 people worldwide have completed this gruelling challenge however no-one has pushed their physical ability to return to sea level, at speed, after summiting each mountain.
"Although this will not be the toughest climb out of the seven, it is definitely by far the most difficult logistically. The preparations have taken months to ensure that I am physically and mentally ready for harsh conditions in such a remote landscape.
"Packing the minimum amount is difficult but essential as I will have to pull a sledge with all my equipment, clothing, food and shelter each day which will weigh around 80Kgs. Weather permitting, I hope to summit Mount Vinson on Christmas Day which is the half way point. I will then have to ski to sea level which will be an arduous task over difficult terrain but if everything goes to plan I hope to finish and be a world record holder by mid January."
To date Noel and Lynne have raised £130,000 for UCF to fund a major new support programme for cancer patients and their families in Northern Ireland. If you would like to
support Noel's world record attempt you can make a donation to UCF by clicking on www.justgiving.com/7summits2sealevel.
julieann.spence@ulsterstar.co.uk
Ulster Star
12/11/2009