First for Lisburn as Norma is All Ireland Inner Wheel Chairman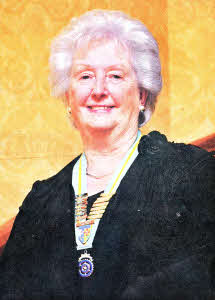 LISBURN Inner Wheel Club Chairman Norma Coggins has become the first member of the local club to be elected as the organisation's All Ireland Chairman.
Norma, who was born in Belfast, has lived in Lisburn since her early childhood.
The local woman has been busy in her new post since taking on the role in July. Recently Norma has been busy raising funds for Congenital Heart Disease, having sadly lost her husband Harry to the illness in 2004.
Norma was recently involved in organising a variety of charity events, including a fundraising evening in Stormont, which included support from clubs throughout Ireland.
During Norma's career, she has had two very successful leather shops in Lisburn for 28 years. Over this time she also continued travelling around her valued customers, promoting sporting equipment, leather goods and handbags. Norma is a people's person and loves meeting people; this is evident as she continues to run Bicker Agencies, which was founded by her father Norman Bicker, after 51 years.
She is Trustee and Board member of YWCA of Ireland and highly involved in the WI. Norma has a deep love for her church, Railway Street Presbyterian, where she is an ordained Elder and involved in many roles.
She is Convenor of Reception Committee and Pastoral Care and Friendship Visitors, along with several other duties within and outside the Church. She is also a volunteer with the Ex-Patients Guild which staffs the Lagan Valley Hospital shop.
stacey.heaney@ulsterstar.co.uk
Ulster Star
25/12/2009