Hospice nurses highlight Christmas lights appeal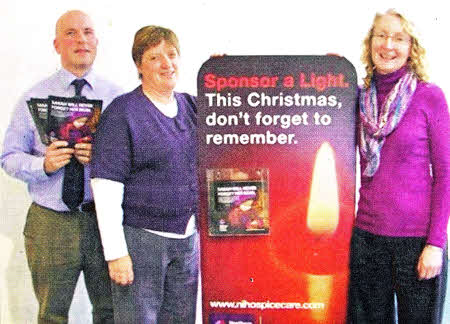 Northern Ireland Hospices Ballynahinch Community Services Team (I-r) Phil Entwhistle. Helen McKnight and Donna Dillon support the launch of the charity's biggest annual fundraising appeal — Lights to Remember. The event now in its 20th year is an opportunity to sponsor a light on the Hospice Christmas tree in memory of a loved one and also helps secure funds for Hospice which cares for over 3,000 local children, young people and adults each year. The charity has an annual fundraising target of £5 million and hope this appeal will generate over £200.000. Every pound donated to this appeal goes directly towards providing hospice care services to local people.
NORTHERN Ireland Hospice's biggest annual appeal — Lights to Remember has just been launched and the charity needs to raise over £200,000 to meet its target.
The event focuses on sponsoring a light on the Hospice Christmas tree in memory of a loved one and is the most significant event in the Hospice calendar for the charity.
Now in its 25th year, the charity founded by local people to care for local people has gone from caring for 98 patients to over 3,000 patients annually. Demand for hospice services in NI continues to increase and the charity is now caring for over 90% of patients in their preferred place of care - at home. Each year it relies heavily on support and donations from the public to keep services in the children and adult hospice services running.
Northern Ireland Hospice Community Services nurse for Ballynahinch Team (covering Twinbrook, Poleglass, Dunmurry, Lisburn, Moira, Glenavy, Aghalee, Dromara, Downpatrick, Castlewellan, Newcastle, Killough and Ardglass), Phil Entwistle knows the difference every donation makes in helping him and his colleagues provide an invaluable service to patients and their families receiving hospice care at home.
"In Northern Ireland 1 in 5 people are touched by the care and support they receive from Hospice," said Phil. This is only made possible by the generosity of the public.
"We are finding more and more people are in need of our services and support. I feel privileged in my role. I work in the Ballynahinch team areas providing care to patients and comfort and support for their family members on a daily basis. Seeing a patient free from pain and comfortable is the greatest achievement for any nurse. Please support our appeal and help us continue caring for more patients."
The switch on of the Hospice Christmas tree at Somerton House will take place on Thursday December 17. It will begin with a short service at 7.30pm in Dominican College, Fortwilliam Park, Belfast BT15 4AP and is followed by a torchlight procession to Somerton House for the switch on of the lights in the grounds of the Adult Hospice at around 8.15pm. Over 1,000 people are expected to attend. Log onto www.nihospice.org to sponsor a light or tel: 028 90 777 123 for further information.
Ulster Star
27/11/2009