Lisburn firm's new software a blessing for local churches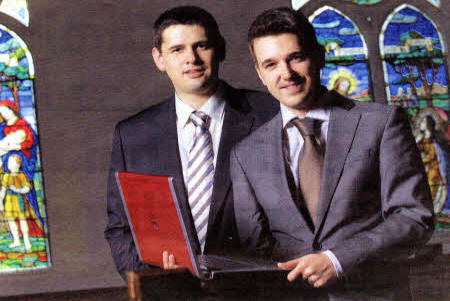 GCD director, Andrew Cuthbert, and software developer, Alan Millar, discuss the Omega Church software following meetings with local churches about the innovation.
A LISBURN company is hoping that specialist new software that enables churches to prepare for important accounting requirements soon to come into effect will come as a blessed relief.
Omega Church, developed by Lisburn-based GCD Technologies, helps churches comply with regulations which result from the establishment of Northern Ireland's Charities Commission governing how they record and report their financial activity.
The software, which has been approved for use by the Presbyterian Church in Ireland and is applicable to all denominations, is the only one of its kind being offered by a Northern Ireland company.
GCD director, Andrew Cuthbert said that in addition to targeting the significant number of Northern Ireland churches yet to get ready for the new accounting requirements, the company will also be offering the system to churches in the Republic of Ireland and in other parts of the UK.
Omega Church is a comprehensive administration software package for use in churches of any size or denomination," he said.
"It was developed to ease the burden of church administration with benefits for church administrators, clergy and treasurers. The accounting aspect of the software, which can be purchased separately or as part of the wider package, enables churches to meet the requirements of the Charities Commission." Founded in 1999 by then students Andrew Cuthbert and Andrew Gough, the company now employs 14 at Lisburn Enterprise Centre.
Ulster Star
30/10/2009