Local architect has designs on helping charity
Sarah Toland reports on a new way to find out how to improve your home
while supporting Action Cancer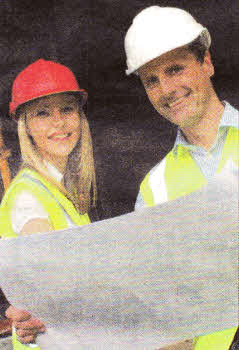 A HILLSBOROUGH architect with designs on helping Action Cancer has launched a scheme to raise money for the group while giving advice to local people to help them make the most of their homes.
Paul Moore and his company McCann Moore are offering, for a suggested minimum donation of £40 to Action Cancer, to provide a one hour consultation to discuss ideas and give advice. There is no obligation and the entire donation supports Action Cancer.
Paul said: "Many people are desperate for more space for their growing families but simply cannot afford to move. An architect can give inspiration for
an extension, new kitchen or just make better use of the space you have. 'Improve Don't Move' allows people to discuss their ideas with an architect with no obligation."
Kerry McCrea, of Action Cancer, commented: "We are delighted to be working with McCann Moore and to have established 'Improve Don't Move' to offer real value and a professional service for people thinking about home improvement. The suggested donation of £40 will enable Action Cancer to provide a counselling or complementary therapy session to an individual with cancer."
Johnny and Jacqui Kerr have already used McCann Moore to come up with a solution for their 1930s home.
Johnny said: "We wanted something a little more show-stopping than the ubiquitous kitchen extension. We both had our own ideas on how that should be
done, but we needed someone to fuse our diverse ideas into a reality. Dealing with an architect is great, as their expertise and creativity can lead to something exceptional."
The 'Improve Don't Move' initiative is open for enquiries now and all visits should be completed by the end of November 2009. For more information log onto www.improvedontmove.org, or call Paul from McCann Moore on 07745 020 854
Ulster Star
02/10/2009