TRIBUTES FOR PETER O'HAGAN
Sudden death of Lisburn councillor stuns community
by JULIE ANN SPENCE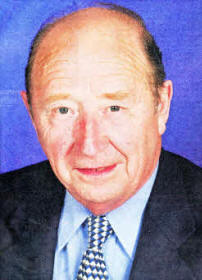 TRIBUTES have been paid to long serving Lisburn Councillor, Peter O'Hagan, who died suddenly in the early hours of Wednesday morning.
Councillor O'Hagan, who had represented the people of Killultagh, was the first nationalist Mayor of Lisburn and served on many committees during his time on the council. He currently served on Lisburn City Council as Vice Chairman of the Corporate Services Committee.
He was a founding member of the SDLP and a former principal of St Aloysius Primary School in Lisburn. Education and politics were his life's work, having worked as a teacher at the old Lisburn Boys Primary School in Chapel Hill, before moving to St Aloysius Primary School in 1968, where he became principal in 1975. He was also a member and former Chairman of the South Eastern Education and Library Board.
Councillor O'Hagan had also served for six years on Lisburn's District Policing Partnership, however he stepped down earlier this year to allow a younger Party colleague, Councillor Matthew McDermott, to take up a post.
His fellow SDLP councillor, Brian Heading, led the tributes to Mr O'Hagan. "Our sympathies are with the family at this sad time," he said. "His passing will be a loss to the people of Lisburn and its civic leadership. He was a founding member of the SDLP and held a number of positions within the Party.
"He worked hard over the years for everyone. I respected him as a friend and colleague and we .will miss his leadership on Lisburn City Council."
Lagan Valley MP Jeffrey Donaldson said he was "shocked" at the news of Mr O'Hagan's death. "Our thoughts and prayers are with Rosemary and the family during this Christmas period, when they will feel Peter's loss very keenly. Peter was a gentleman who held very strong and principled views but had no enemies and worked tirelessly on behalf of the community he represented. He will be sorely missed in the Council as a figure who always had a significant contribution to make in every debate."
Sinn Fein Councillor Paul Butler was also deeply shocked by the news. "He was always someone I had a lot of respect and time for over the many years I have served on the council. Our thoughts and prayers are with his family, especially at this time of year. I spoke with him at the meeting this week and I am very shocked he has passed away."
DUP Lisburn Group Leader, Alderman Edwin Poots, speaking on behalf of his Party group on Lisburn City Council, said: "Peter was at the meeting on Tuesday night and he was in good form. There was a Christmas party after the meeting and when I left Peter was still there and I wished him a Happy Christmas. Peter certainly had his wits about him, he was very sharp and articulate.
"He represented Killultagh for many years. He worked very hard and will be missed by the local community he served."
Ulster Unionist Councillor, Alderman Ivan Davis, commented: "I am deeply saddened to hear of Peter's sudden passing. Peter was a long time member of the Council and a past Mayor, who always made a valuable contribution to Council debates and an ardent champion of the ratepayers. He will be greatly missed and to Rosemary and family on behalf of Betty and myself, I offer sincere sympathy."
TUV Councillor Cecil Calvert, who also represented the Killultagh area, said he had learned of Mr O'Hagan's passing with "sad regret." He added: "He was a hard working and dedicated councillor for the Killultagh ward. I have fond memories of Peter at the recent Christ Church PSNI carol service and at the full council meeting this week. My prayers and support are with Rosemary and the family at this difficult time."
Lagan Valley Alliance MLA Councillor Trevor Lunn paid tribute to Councillor O'Hagan. He commented: "Peter O'Hagan served Lisburn Council, the people of Lisburn and the SDLP with distinction over many years. He was a good friend, Councillor, husband and father. He will be greatly missed and our sympathies go to Rosemary and family at this sad time and especially poignant time of the year."
Chairman of Lisburn City Council's Corporate Services Committee, Councillor Paul Givan, also added words of condolence. "As Vice Chairman of Corporate Services Peter was able to fill in and deputise for me on occasions and he played a very active role on the committee and was a very productive Vice Chairman.
"I was shocked to hear the news and my thoughts and prayers are with the family at this time."
The current Principal of St Aloysius Primary, Mr Patsy McClean, added his words of sympathy and shock. "We were deeply shocked to heard the tragic news of the very sudden death of our former Principal,' he said. "Over the years he not only served the educational needs of the children of Lisburn, but also of children throughout Northern Ireland.
"The Board of Governors and the staff at the school are deeply saddened by his passing."
Funeral arrangements have not yet been made, however Parish Priest Father Dermot McCaughan said: "I am deeply shocked at the sudden death of Peter at this time. He was so highly esteemed and respected in Lisburn.
"He was a family man with a deep faith and was highly respected in the Parish."
A faithful councillor says Mayor
THE Mayor, Councillor Allan Ewart, has spoken of his profound sadness on the death of Peter O'Hagan.
"I wish firstly to express my heartfelt condolences to his wife Rosemary and to the wider family circle," said the Mayor.
"I am very sorry to have received this news.
"Peter was in attendance at the Full Council meeting on Tuesday night, and also attended my reception afterwards. Peter was a faithful attendee at Council meetings during his 32 years service on the Council and was a tireless, hardworking and committed elected member here at Lisburn City Council and widely respected by his peers.
"On behalf of all the elected members and staff of the Council I would like to express sincere sympathy to the family circle," he concluded.
julieann.spence@ulsterstar.co.uk
Ulster Star
25/12/2009