Local brickwork apprentice wins Skillbuild Medal at UK Finals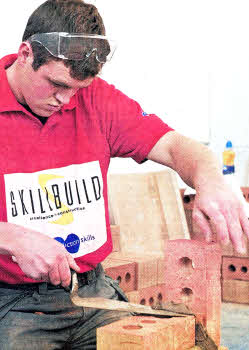 A LISBURN brickwork apprentice has won a coveted bronze medal at the Skillbuild UK National Finals, held at South Lanarkshire College in East Kilbride.
Following on from his silver medal success at the Skillbuild NI competition in March, Philip Green, a student at Belfast Metropolitan College, pitted his skills at the UK National Finals, beating some of the best young people in the UK to win a bronze medal, at just 19 years of age.
David Cooper Chairman of Skillbuild NI said: "Young people like Philip that prove their skills on the local stage and go on to succeed at the UK National Finals, are a credit to the industry and help promote a positive image of construction to other young people. We are delighted for Philip, who has worked extremely hard to develop his skills in preparation for this competition. We must thank his lecturer, Alan Stewart, for his time spent training and preparing Philip for the competitions. To achieve a bronze medal against some apprentices who are a few years older and more experienced, is testament to his hard work and dedication." The Skillbuild competition is the largest multi-trade competition in the UK for young students and apprentices. It covers nine crafts including carpentry, joiner 7, bricklaying and plastering. As a resuite of his success, Philip has now been invited to take part in the UK Skills-organised training and selection process, which will ultimately decide who will be the UK team's brickwork apprentice to compete at the WorldSkills competition in London in 2011.
Ulster Star
06/11/2009