Photographers snap up prizes in 400th anniversary competition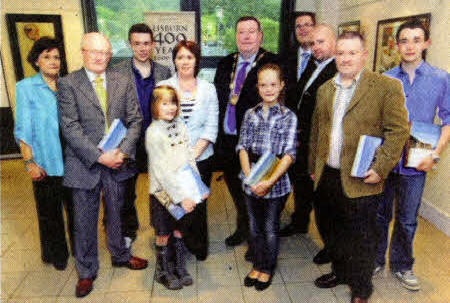 Pictured at the Council organised Photography Competition Awards event are (I-r) Mrs Felicity Graham, Lisburn Arts Advisory Committee (Judge); Mr Robert Wilkinson; Mr Mark Douglas; Councillor Jenny Palmer, Chairman of the Council's Economic Development Committee; Miss Lucy Hewitt; Alderman Paul Porter, Deputy Mayor; Miss Emily Lester; Councillor Andrew Ewing; Mr Andy McDonough, Eclipso Pictures (Judge); Mr David McDonald and Mr Andrew McCoy. US4009- Photographic winner:
FOLLOWING lengthy consideration of the huge number of high quality photographic entries submitted to the Council's Amateur Digital Photography competition as part of Lisburn's 400th Anniversary programme of events, an evening reception was held in September, at the Island Arts Centre, where the winners received their prizes.
The Deputy Mayor, Alderman Paul Porter and Councillor Jenny Palmer, Chairman of the Economic Development Committee, were there to welcome and congratulate all the finalists of the competition on their achievements.
Alderman Porter said: The standard of entries for the competition was simply marvellous. There were stunning photographs of various aspects of the city; from landscapes to buildings, from city locations and well-known places within Lisburn, to beautiful seasonal photographs.
"I was delighted to meet all our guests on the evening; young and old and from all walks of life and to hear about the photographs they submitted; what inspired them and to learn a little bit of background about the photographs displayed in the Arts Centre. Each and every person who submitted an entry is a winner in terms of their photography skills."
Councillor Jenny Palmer commented: "Our judges, Felicity Graham from the Lisburn Arts Advisory Committee, George
Scott, Lisburn Historical Society and Andy McDonough, Eclipso Pictures, certainly had a difficult job to appraise each entry as the overall standard was so high.
"The variety of entries and the effort local people put into the competition is very pleasing to see, and like the Deputy Mayor I was really pleased to be a part of the evening. Well done to everyone."
All the entries were displayed in the Island Arts Centre. The event concluded with the presentation of awards to the winners of the competition categories.
The Award Winners are:
Adult Category: 1st —Mark Douglas, Hillsborough 2nd - David McDonald, Lisburn; 3rd - Robert Wilkinson, Lisburn; and, Highly Commended - Robert Wilkinson. Images deemed 'worthy of further commendation from the judges were those taken by: Brian Livingston, Lisburn; Stephen Wilson, Belfast; Elaine Heath, Hillsborough; and, Stephen O'Kane, Belfast.
Under 18 Category: 1st - Lucy Hewitt, Hillsborough; 2nd -Andrew McCoy, Lambeg; 3rd - Emily Lester, Lisburn; and, Highly Commended - Grace Thompson, Dromore. Commended entries in this category are: Becky Lester, Lisburn; Victoria Hunter, Lisburn; Jasmine Forster, Ballinamallard; and, Niamh McCloskey, Twinbrook.
Ulster Star
09/10/2009