Family's heartache after dogs are poisoned
by STACEY HEANEY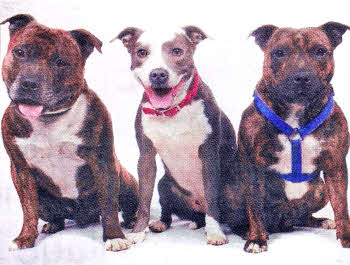 A LISBURN woman has spoken of her family's heartache after their beloved pet dogs died when they were poisoned last weekend.
The woman said the family from the Manor Park area were just "devastated" after two of their three pet Staffordshire Bull Terriers died on Saturday after being struck down on Friday evening.
Diesel (7), Missy (4) and Roxy (2) had been allowed into the garden after their owner had returned home from work on Friday evening. However, 15 minutes later Diesel collapsed and began to have a fit.
Shortly afterwards Roxy was affected the same way and on Saturday morning both dogs had to be put to sleep.
The lady commented: "We are just devastated. This is absolutely disgusting. The dogs are family pets, everyone knows them. They didn't get outside unless we took them out, they were just family pets.
"They slept in the house and stayed in whilst we were at work so they wouldn't be barking and disturbing people. I don't know how anyone could do this.
"I had let the dogs out when I had come home from work and 15 minutes later Diesel had collapsed. His back legs just went and he started fitting, I thought it was an epileptic fit. I rushed him to the vet and the first thing he asked was if he had been poisoned, I said 'no', but shortly after Roxy started fitting as well. We don't think Missy ate anything as she was thankfully alright."
She continued: The vet explained that a chemical poison would destroy the brain. He anesthetised them overnight and said that if the fits didn't stop in the morning he would have to put them to sleep.
"Roxy's fits continued on Saturday but Diesel didn't wake up, he went into a coma and they were both put to sleep.' The heartbroken woman added: "Each of the dogs belonged to one of my children and Diesel was reared from a pup by my son, who served in Afghanistan last year. He is just destroyed by this; we all are."
Geoff Clarke, the Veterinary Surgeon at Advance Veterinary Care who treated Diesel and Roxy said: "Both dogs presented in continuous fits and because of that they had to be sedated to protect the brain and protect them from overheating due to the muscle movement.
When the sedation was removed one was still fitting meaning it was either the drugs still affecting the brain or brain damage, whilst the other dog was almost comatose.
It was dramatic for the owner to be watching," he said. "It was fairly dramatic to have two at the same time; there was nothing else but poison that could do it."
Police in Lisburn would like to hear from anyone who may have any information on the incident.
Officers can be contacted on 0845 600 8000 or use the Crimestoppers number which is 0800 555 111.
stacey.heaney@ulsterstar.co.uk
Ulster Star
11/12/2009