Sue receives OBE or services to he environment
AMERICAN BORN PROFESSOR HONOURED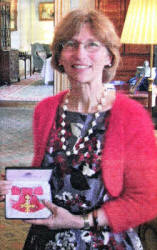 A PROFESSOR living in Lisburn has been presented with an OBE for her services to the Environment at Hillsborough Castle.
Director of Northern Ireland Environment Link (NIEL), Professor Sue Christie, received the prestigious award on Tuesday in recognition of her dedication in the conservation and protection of the Northern Ireland environment.
Sue said she was "thrilled" to be awarded the honour. "I found out about a year ago and I was gobsmacked and very surprised. This is really a recognition for the non-government environmental section which plays an important role in promoting environmental issues. "I am delighted to be receiving the honour." Sue, who lives locally with her husband, has been the Director of NIEL, the networking and forum body for voluntary environmental organisations in Northern Ireland, since 1991. She is an ecologist, originally from the USA, with an MSc and PhD in Ecology and Behavioural Biology and is currently an independent member of the Strategic Waste Board, on the NI Climate Change Impacts Partnership and the Boards of Action Renewables, Sustainable NI and Tidy NI. In addition to work in Northern Ireland Sue is involved in an environmental education project and ecological research on Soqotra Island, Yemen. She is Visiting Professor at the Department of Environmental Sciences at the University of Ulster, Coleraine and a tutor in environmental planning at Queen's University Belfast and is also a Member of the Institute of Ecology and Environmental Management and a Chartered Environmentalist.
Ulster Star
06/11/2009