Councillors urge listing to save historic building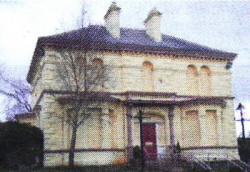 LOCAL Councillors are calling for the Northern Ireland Environment Agency to step in and save one of Lisburn's oldest surviving buildings from demolition by giving it Listed Building status.
A planning application is currently under consideration by the Planning Service for the demolition of Rathvarna House, the former Teachers' Resource Centre on the Pond Park Road.
However, Councillor Paul Givan and Lagan Valley MP Jeffrey Donaldson are seeking protected status for the building.
The issue was raised at the Planning Committee meeting on Monday evening, where Mr Givan proposed the Environment Agency should be contacted and urged to immediately list the building after a planning application was received to have it demolished and replaced with residential dwellings.
Mr Givan, who said he is confident the building will be protected, said: "I have met with the Planning Service about this application after being contacted by local residents expressing their concern about the proposal, which 1 share.
"The building, I believe, should be kept and could be used for resi
dential purposes. The building has significant character and architectural merit and is located on a site that provides green space and mature trees in an area that is densely urbanised. This house was built in the early 1900s and given its location it stands out from the surrounding housing as a building of significance and an excellent example of an Edwardian style residence."
He added: "Development pressures have meant that many buildings such as this have either disappeared in recent decades or been compromised through a loss of context. It would be a great loss to have this building demolished but there is, I believe, the opportu
nity to list the building and have it protected."
Mr Donaldson added: "I have worked with local residents on this issue and we have successfully secured a Tree Preservation Order on the site ensuring the protection of the mature trees that provide an area of green space in what is a heavily populated area of Lisburn. The next step is to have the building listed and, given the local interest and its character, I believe there is a strong case for preservation and that alternative proposals could be made for using the building that ensures its retention." Councillors agreed to write to the Environment Agency to seek Listed Building status for the property, which was formerly known as 'Pond Park House'.
The action follows a recent appeal by local resident, Nicola Waddington, an architect who expressed concern at the proposed demoiltion of such a historic building.
Nicola commented: "I believe the architecture is of significant merit and that, considered as a whole with the trees, it adds greatly to the character and history of the area."
stacey.heaney@ulsterstar.co.uk
Ulster Star
11/09/2009