Historic building set to be listed by Department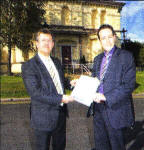 THE future of Rathvarna House, one of Lisburn's most historic buildings, looks to be secured after the Northern Ireland Environment Agency announced they are considering giving the house protected status as a listed building.
In documentation, which was sent to Lisburn Council in July, the Environment Agency said the property on the Pond Park Road "is an eye-catching early 20th century 'suburban' villa with an abundance of fine....Italianate detailing."
The report added: "Development pressures have meant that many buildings such as this have either disappeared in recent decades, or been compromised by a loss of context, however this desirable Edwardian residence has remained largely untouched and stands out from the surrounding mainly mid-twentieth century suburbia as a building of significance."
Rathvarna House, which until recently was used as the Teachers' Resource Centre, was built in 1903-04 for William John Frazer at a cost of £1,360.
The Department are looking at listing the building for its Architectural Interest on the basis of its Plan Form, Style, Proportion, Ornamentation, Alterations detracting from building, Setting and Quality and survival of Interior.
Lisburn North Councillor Paul Givan and local MP Alderman Jeffrey Donaldson have welcomed the news.
Mr Givan said, "I am delighted that the Agency are now proposing to have this building listed and protected as an excellent example of an 'Edwardian' residence that stands out from the surrounding mid-twentieth century suburbia.
"Over recent years Lisburn has lost a significant number of period dwellings, to the detriment I believe of the City's character, and this building which cost £1,360 to build in 1903 today has a value that goes beyond monetary terms but adds value to the character of the surrounding area and local history in Lisburn.
"I know that local people will be delighted with this outcome and the Environment Agency will be given full support in finalising this proposal.
"This development is welcome and I give it my full support. The Environment Agency should now move ahead to have Rathvarna House officially listed ensuring it receives protected status.
"This proposal to protect the building will have an impact on the planning application submitted by the Education Board to have it demolished and replaced with residential properties.
"The Board will have to look again at this issue and I believe the building could be used in a way that protects its architecture and ensures its sustainability into the future.
"The Planning Service will have to refuse this application once the building is listed or alternatively the Education Board can withdraw their application and seek an alternative way forward."
Jeffrey Donaldson MP and Councillor Paul Givan in front of Rathvarna House. US3809-143AO
Ulster Star
18/09/2009