Busy mum up for Governor of the Year title
by MARY MAGEE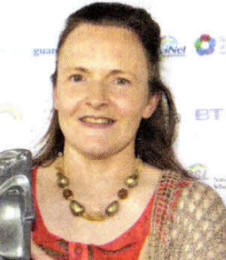 THE GOVERNOR of a school in Crumlin who has helped transform it into one of the most successful Irish medium schools in Northern Ireland is through to the national final of the Teaching Awards this Sunday, October 25.
Rosie Mulholland, who won the DENI Award for Governor of the Year in Northern Ireland earlier this year, will find out if she has won the gold Plato at the award ceremony in the Theatre Royal Drury Lane, in London where up to 2000 guests will attend along with celebrity presenters Christine Bleakley and Jeremy Vine. The event will be later screened on BBC2 at 6pm.
Rosie, a busy mum-of-five whose children range from 18 months to 11 years and a part time nurse, became chair of the Board of Governors of the Gaelscoil Ghleann Darach at the Glenavy Road in 2005.
At that stage the school was in its infancy and there was no head teacher, few pupils, no permanent building and it was operating from a community hall.
However Rosie quickly set about finding a permanent base for the school and secured funding for a double mobile classroom. The school is now recognised by the Department of Education and has been hailed as a model of Irish-medium education. It is now in the process of liaising with architects and planners to secure a permanent building and now has an enrolment of 43 pupils. Rosie continues to be very closely involved in all aspects of school life from chairing governor meetings to helping ferry children to weekly swimming lessons.
"Rosie's belief in a bilingual education and her commitment to the school has ensured its continued success," said one colleague.
One judge said: "There cannot be many people involved in education of whom it is said that without them a school simply would not exist."
Colleagues queued up to praise Rosie to Teaching Awards judges. One said: "This is a family school and Rosie is the school's best friend, she has a fantastic personality, she dedicates herself to the future of her family, her school and the community as a whole."
Rosie, along with the 150 regional winners will be treated to a prize weekend in London with a guest, staying two nights at the Tower Hotel next to the famous landmarks at Tower Bridge and the Tower of London.
Events over the weekend include a Saturday night drinks party, a fellows' seminar, the Theatre Royal ceremony broadcast on BBC2, followed by a glittering gala dinner.
Ulster Star
23/10/2009