Round Ulster by Rolls Royce
by MARY MAGEE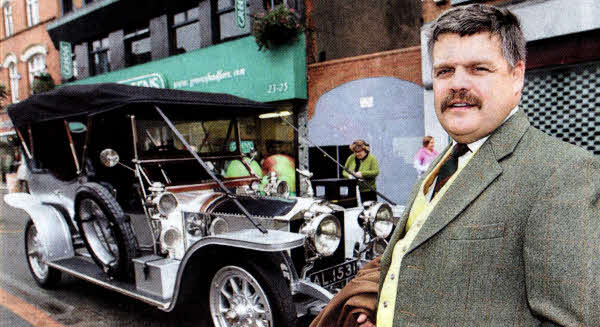 Jim Black with his 1910 Rolls Royce Silver Ghost back in Lisburn. US3909-516cd
WHEN Rolls Royce enthusiast Jim Black from Ballinderry says he is going for a 'spin' you just never know where he will end up.
Jim, who once drove thousands of miles to Greece in one of his beloved vehicles, has just returned from his latest spin - a journey that took him 4,000 miles to Hell in Norway in 'Kitty', his 1910 Rolls Royce Silver Ghost.
And now he is now planning another of his trips, this time a little closer to home.
Although still in its early stages, Jim's plan is to take 'Kitty' on a first of its kind vintage car tour across Northern Ireland, next year.
He will pack everything into the two large Louis Vuitton leather trunks on this back of the Silver Ghost, and wear his special driver's coat made in 1910 - the same age as the car - to go on the province wide tour.
He has already written to the Assembly seeking support and plans to write a booklet about his journey. The idea came during his latest trip when he marvelled at the beautiful sights he passed on the way - the vineyards in France, Anne Hathaway's cottage in England and the other sights of Amsterdam, Sweden and Norway.
Jim said: "I think that it would be good for tourism in Northern Ireland because there is nothing like this here. The idea is that I will start off in Belfast, go around the north coast, into the centre of Ulster and take in Cavan and Monaghan too." The 1910 Rolls he will be driving is 'Kitty', originally belonged to Kitty Hill, wife of the Marquis of Downshire who owned the historic Hillsborough Estate. In 1901 the couple divorced and when Kitty remarried General Sir Joseph Laycock he bought her a car. Kitty, a keen motorist, had earlier been involved in a serious car accident in France after which she had her leg amputated. To allow his wife to get around her husband gave her a surprise gift of a 1910 Rolls-Royce, the vehicle now owned by Jim.
Ulster Star
09/10/2009