WALLACE HIGH SCHOOL TOUR TO NAMIBIA
Pupils savour trip to Namibia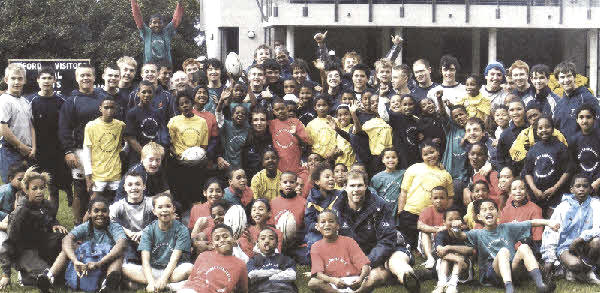 Wallace pupils in the Namib Desert during their recent rugby tour to South Africa and Namibia.
WALLACE High School have recently returned from a trip of a lifetime to South Africa.
A team of 32 pupils travelled to the land of the reigning World Cup holders as part of a Development Squad in preparation for this year's Schools' Cup campaign.
Months of fundraising by a committed group of parents led to a action packed itinerary, which began in Pretoria at the High Performance Centre where the squad spent three days rubbing shoulders with elite South African athletes and international rugby players from Italy and cricketers from Bangladesh. Tour manager Ian Latham explained: "Starting at the High Performance Centre gave our coaching staff the opportunity to prepare our players for the much anticipated tour matches. The training and gym facilities were first class and really helped the players prepare for what was sure to be a demanding trip". A trip to the Valley of the Waves at Sun City gave the boys a well deserved break from training and was much enjoyed by both staff and pupils.
Next on the itinerary was a two day safari at Entabeni Game Reserve. This proved to be one of the highlights of a great trip as all tour members got close to lions, rhinos, elephants, giraffes and many other animals in their natural environment.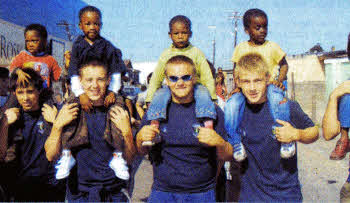 The weather in Namibia was even hotter than experienced in South Africa and certainly made for a pleasant change from home. Initially based in Walvis Bay, a small town on the edge of the Namib Desert, this enabled the squad to go quad biking and sand dune boarding in the desert, another memorable and very unique experience for everyone. From Walvis Bay the squad travelled to Windhoek, an old fashioned city where the squad had a chance to relax, play, train and enjoy several enjoyable meals out where the more intrepid tourists tried dishes such as kudo and crocodile.
From Namibia the squad travelled back to South Africa to their final destination of Cape Town, undoubtedly one of the most beautiful cities in the world. While in Cape Town the squad spent several enjoyable evenings in the world famous Victoria and Albert Waterfront, including a memorable final tour meal. All players also enjoyed the guided tour of the Newlands Rugby Stadium and particularly the chance to get pictures taken with the Rugby World Cup which resides in the Newlands trophy room. Our last morning was spent at the top of Table Mountain where clear skies enabled us to see for miles around the city.
A day spent in the Langa Township proved to be an emotional experience for the Wallace students. Tour captain Matthew Godfrey found the trip to be incredibly humbling. "'The poverty in the area was startling and it made us all realise how fortunate we are to live in such a privileged society. We had the opportunity to coach the young children in Edendale Primary School and I know the visit has inspired many of us on tour to fundraise for the area and to explore gap year volunteering opportunities".
South Africa is really a rugby obsessed country and the pride they take in their national sport was clear every time matches were played there. Results were good and several tough encounters were always forgotten afterwards with excellent hospitality and friendship. For the record results were as follows:
A Squad Trinity House: lost 7-10 (C Munn try scorer, K McCall Man of the Match)
Ian Mohr Secondary School: won 49-5 ( R Stewart, J Clements, D Scott 2 tries each, M Godfrey, C Munn, R Irwin Man of the Match).
Rangers RFC: won 22-0 (C Matthews, S Evans, R Stewart 2 tries and Man of the Match).
Westerford High School: won 22-8 (D Scott, D Irvine, F Foxwell., K McCall Man of the Match).
B Squad. Trinity House: lost 5-7 (C Williams try scorer, F Foxwell Man of the Match).
Rangers RFC: won 41-0 (F Foxwell 2 tries, R Brownlee, J Kerr, M Moore, C Nimmon, I Connan Man of the Match). Westerford High School: won 7-3 (C Lister).
Tour Squad; M Godfrey (Tour Captain), I Baird, R Brownlee, S Brownlee, J Clements, I Connan, N Davis, M Donaldson, S Evans, S Fitzgerald, F Foxwell, D Henry, C Hodkinson, R Irwin, A Kerr, J Kerr, K McCall, C Munn, C Spence, R Stewart, C Williams, J Ard, A Gilmore, C Godfrey, M Godfrey, C Lister, D Irvine, C Matthews, M Moore, C Nimmon, N Reid, D Scott, M Uprichard Staff: Mr I Latham (Tour Manager), Mr G Kidd and Mr D Simpson (Assistant Tour Managers), Mr D Suffern and Mr H McAleese (Tour Coaches).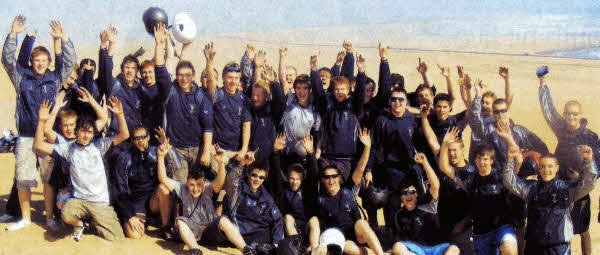 Wallace pupils in the Namib Desert during their recent rugby tour to South Africa and Namibia.
Ulster Star
25/09/2009