Hunterhouse College welcomes German visitors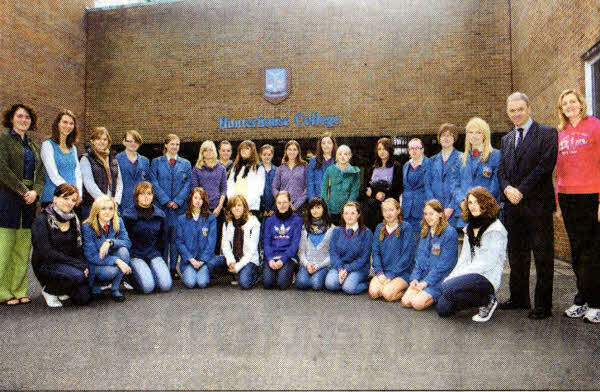 Hunterhouse Staff and pupils pictured with Visitors from Germany visiting the school as part of a student exchange scheme. US4109-105A0 Picture By: Aidan O'Reilly
ON Saturday October 3 twelve Year 10 German girls under the leadership of Frau Silvia Knust began a seven day visit to Northern Ireland as guests of pupils at Hunterhouse College.
The German girls are all students at the Schloss Neuhaus Gymnasium in Paderborn, North Rhine Westphalia. In December 2008 their school won a national prize as 'Germany's Best Grammar School', a title of which they are justifiably proud. They are also a 'Europaschule, and in the first week in October all 140 pupils in Year 10 of their school will be going to 10 different destinations across Europe.
Speaking ahead of the visit, Mrs Colleen Dawson, Head of German at Hunterhouse College, commented: "We are very excited about this visit from such a prestigious grammar school and hope to show our visitors some of the attractions in Northern Ireland.
"We are really pleased to be one of Schloss Neuhaus' partner schools. In 2010 some of our girls plan to go to Germany for the second leg of the exchange."
Ulster Star
09/10/2009