Inspirational water ski champion holds book signing in Library
by STACEY HEANEY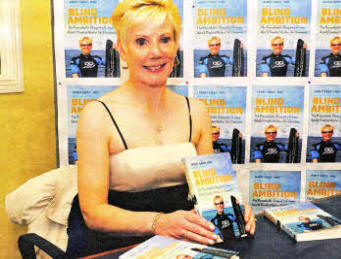 LISBURN sporting heroine Janet Gray's life has been full of highs and lows, all of which have now been collected together for the first time in her autobiography, Blind Ambition.
The four time World Disabled Water Ski Champion has been on top of the world, winning medals and admirers galore. However, she has suffered for her sport, almost dying in an accident in Florida in 2004 which resulted in countless operations, before the local woman fought back to once again reach the pinnacle of her sport.
Janet will be giving a talk and signing copies of Blind Ambition, which was co-written with Lorraine Wylie, in the Lisburn City Library on Friday December 11 at 1pm.
The Freeman of the City said the book is another milestone in her life.
"It's great to have it all done and get the final thing in your hand. It's my life up to now and I'm hoping that it's motivational and inspirational and may help others going through difficult times in their lives" she said.
Having lost her sight at just 21 due to a congenital family eye disease, Janet went on to win the World Disabled Championship in three disciplines (Slalom, tricks and jumps) and became the overall World Champion and World Record holder in all three disciplines. The former NI Sports Personality of the Year was world champion in 1999, 2001 and 2003, and she defied the odds by coming back from her injuries to take victory at the 2007 World Disabled Water Ski Championships in Townsville, Australia.
Now Janet is looking forward to coming home to Lisburn City Library next week.
Mairead Ferguson, Lisburn City Library, explained: "Admission is free but booking is advisable." Meanwhile, Janet has been included in a new exhibition currently running in the City Hall, Belfast. The exhibition, showcasing Northern Ireland's sporting heroes, has been organised by the Ulster Sports Museum Association and features famous names from the past including George Best and Dame Mary Peters along with more recent stars such as Barry McGuigan.
The exhibition, which is part of the City Hall's reopening celebrations, runs until December 31. Speaking about her involvement in the exhibition, Janet said: "I was really honoured and delighted to be included. I think its fabulous, there is such a wealth of talent from a small province. It was lovely to go along to the exhibition, it was great to meet so many of the old faces and see what an amazing amount of sports people we have. Hopefully people will go along and see it." For more information on Janet's visit to the Library or to book a place at the event, contact Lisburn City Library on 92633350 or email lisburncity.library@librariesni.org.uk.
stacey.heaney@ulsterstar.co.uk
Ulster Star
04/12/2009