Songbirds return to Island Hall with a new show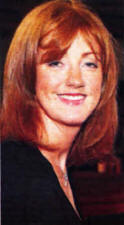 NORTHERN Ireland's premier songbirds The leading Ladies are returning to the Island Hall on Thursday October 1 to perform their new concert - 'Hey Mr Producer'. The proceeds of the concert will go to the Cystic Fibrosis Trust. The girls include local voice coach Lynne McAllister, Mairead Healey, Ceara Grehan and Michelle Baird who met through their involvement in local musical theatre companies. Between them they have played over 50 leading roles in all the major theatres throughout Ireland.
This is their fourth visit to the Island Hall with all the previous councerts having sold out.
Their repertoire includes everything from Abba to Lloyd Webber, Take That to Doris Day. The girls will also be singing their all time favourite song from a musical.
The quartet have a busy schedule ahead with future events in the Grand Opera House and the
Waterfront Hall. Most of their work supports local charities and to date they have helped raise over £20,000 for worthwhile causes.
This event is being organised by Geoffrey Cherry from the Lisburn branch of the Cystic Fibrosis Trust. He is also the pianist for the The Leading Ladies and is confident that the concert will be a wonderful evening of live entertainment from four of the finest sopranos in Ireland.
The girls, with their four-piece band, have been performing all over Ireland including the Hillsborough Oyster Festival, the Derry Jazz Festival and Opera in the Park.
Tickets are available directly from the Island Hall Box Office by telephoning 92 509254 or by contacting Lisburn City Council's Website: www.lisburncity.gov.uk
Lynne McAllister
Ulster Star
18/09/2009