Local women witness spectacular avalanches in the Rockies
by MARY MAGEE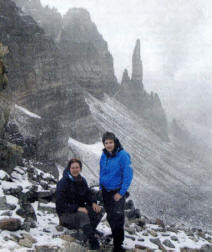 TWO local women witnessed spectacular avalanches during a trek to the Canadian Rocky Mountains with the Ulster Cancer Foundation.
Barbara Kennedy from Ballinderry and former Lisburn woman Allyson Morrow watched the wonderful sight while climbing the Plain of the Six Glaciers near Lake Louise during their five day trip which began on September 5.
"We were just across the valley when there was a sound like a thunder crack and a huge piece of the Victoria Glacier came crashing down the cliff face. It was an amazing spectacle," said Barbara.
The following day during a visit to the Columbia Ice field one of the largest ice fields in North America - they again saw a fresh collapse of the Athabasca Glacier.
"In many places the ice is up to 285m deep, and it spills out into the valleys in tongues or fingers called glaciers, which move at around 12cm per day,' said Allyson.
"It was a unique moment seeing a piece of the glacier that had been there for thousands of years just break off."
The pair were told that in the in the last 125 years the toe of the glacier has retreated by almost a mile, a trend that is set to continue as a result of global warming.
"The roadway to the Top of the Glacier is marked with signposts to show the glacier's retreat over the last century," said Barbara. "It was a sobering thought to see the impact of climate change in such a short time. If the trend continues, in less than 50 years the Athabasca Glacier may be gone altogether." Barbara and Allyson both raised £6,300 -while the group of 30 they were part of raised a staggering £50,000 overall.
The trek which spanned 50 miles and started at Canmore, the gateway to the Rockies taking Barbara and Allyson through stunning areas of Banff National Park around Lake Louise and then on to Jasper National Park. The only challenge the pair really faced was that of the weather. So severe was it that at one stage they believed that they would not make it.
They faced mist and drifting snow at the Sentiment Pass, visibility was severely reduced but the team struggled on and reached their goal. The weather soon improved as they trekked through Banff National Park, Lake Louise and then to Jasper National Park.
Allyson said: "II was like having all four seasons in one week. We regularly had to stop and add or remove layers of clothing to suit the conditions."
One of the toughest challenges was the 'Big Beehive Mountain' during what ended up being a long and exhausting day.
"The views were absolutely fantastic," added Barbara. "Reaching the top was definitely worth all the effort, although we certainly suffered a few aches and pains that evening."
Ulster Star
16/10/2009