Local insurer donates funds to Stepping Stones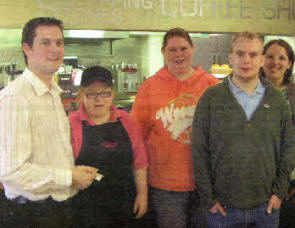 FOLLOWING the successful launch of its customer referral scheme in March, NFU Mutual in Lisburn has donated £1,120 to the Lisburn based charity, Stepping Stones NI.
The large rural insurer launched the scheme in March 2008 and since then has donated almost £10,000 to various local good causes throughout the UK.
The scheme is aimed at existing satisfied customers who would like to recommend NFU Mutual to friends or family. If this referred customer then takes out a product themselves, NFU Mutual will in return donate £20 to a local charity.
Keith Emerson, NFU Mutual Sales Associate in Lisburn said, "As part of the local community we understand the value of word of mouth and trust. We hoped that if our customers were pleased with our personal service and the way that we have handled their claim, they would recommend us to their friends and family.
"We are delighted that in 2008 our customers have recommended us to their friends and family and we have been able to support Stepping Stones NI with this donation."
Martin Malone, Regional Director covering the Lisburn area added: As a mutual insurer with no shareholders, we are not driven by profits or dividends. "Instead, we're focused on our commitment to keep offering value for money for the benefit of our customers.
"We are delighted to be able to continue with this scheme in 2009 and hope that more people will benefit from NFU Mutual's unique approach as a result."
Ulster Star
23/10/2009