Smooth classics at Island Arts Centre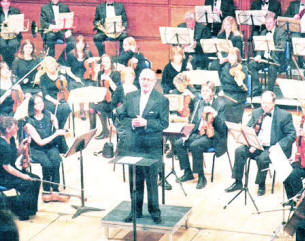 CONDUCTED by David Openshaw, The Studio Symphony Orchestra presents an evening of popular classics including movements from Handel, Mozart and Sibelius at Island Arts Centre Saturday November 14 at 8pm.
The Orchestra will accompany one of the best young sopranos of her generation, Marcella Walsh. Presented with the highly prestigious award of 'Queen's University Student of the Year 2008'.
Marcella received the 'Excellence in Eighteenth Century Musical Performance Award' for playing the role of Erato, the God of Music in Handel's only operatic prologue Terpsicore.
The Studio Symphony Orchestra works regularly with the most talented young local musicians, giving them the opportunity to give concerto performances and gain valuable experience.
The Studio Symphony Orchestra is a recognised leader in amateur music making in Northern Ireland, attracting skilled musicians from across the country and has had the pleasure of accompanying many fine instrumental soloists including Barry Douglas, Peter Katin and George Zukerman, as well as the world-renowned singers Heather Harper, Bernadette Greevy and Peter Pears.
The orchestra will be performing the Water Music Suite by Handel arr. Harty, Rakastava Suite by Sibelius and Exsultate Jubilate and Symphony No.39 in E flat major, K543 by Mozart.
Tickets priced £11/9 concession are available online at www.islandartscentre.com, by telephoning 9250 9254 or in person from the Island Arts Centre.
Studio Symphony Orchestra
Ulster Star
13/11/2009