Su ready to return to the city she loves
by STACEY HEANEY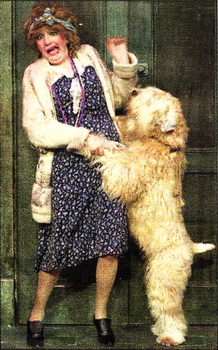 SHE'S best known for her role as the ditsy, soft hearted, Peggy Ollerenshaw in classic TV comedy Hi-de-Hi, but audiences at the Grand Opera House will be seeing a different side of the flamboyant Su Pollard when she takes on the role of Miss Hannigan, the drunken matron of the orphanage, in Annie.
Su is no stranger to Belfast and says she is looking forward to returning to the city she "loves".
Speaking to the Star, Su commented: "I love it. I fell in love with it the very first time I went; I think I was with Godspell which was a long time ago, over 30 years, but it is marvellous. Even during the troubles I never, ever saw anything bad and I was always very well received there, the people are very warm and they love their theatre.
"I love the shops, I love the culture. I stay at the Europa when I'm doing the show," she said, "I don't drive, so I like to be able to walk everywhere and I like Robinson's."
A visit to the local bar will have to wait until after the performance, however, despite Su's portrayal of the alcoholic Miss Hannigan, she is nothing but the consummate professional.
"Can you imagine," she laughed, "'I'm just going over to research my role'. I said to my director: 'I think I need some expenses so that I can go on a pub crawl.' He told me: 'You can bloody well use your imagination'; I didn't get away with that one. Everyone thinks you can get away with having a drink in this role, but I'd be frightened to death of having a drink before a performance. I'll probably be addled in my imagination by the end of the tour."
For 30 years Annie has delighted audiences, with the public familiar with the little red-haired orphan and her faithful companion Sandy, and songs such as Tomorrow and It's a Hard Knock Life.
Having been to the Opera House in the past with Annie, Su obviously loves the production.
"It's such a lovely show," she said. "We get lots of kids come along dressed up as Annie; we get loads of Annies. They really enjoy it, sitting there just singing and its got that 'ah' factor with the dog Sandy, who is played by Danny. He's a real diva dog," she added.
"All the singers are good and it is beautifully dressed, you want to be as true as you can and there is a lovely happy ending; it is just a joy to be in."
A number of local children will also have the chance to tread the boards with the seasoned performer and her co-stars, such as David McAlister who will take on the role of Mr Warbucks.
Children from the Stagecoach Theatre Arts School in Belfast will take on the roles of the orphans for the duration of the run from September 22-26, and Su is expecting good things from them.
"I think they will be marvellous," said Su. "We can only afford to take the Annies so of course, it is quite hard for the local 'orphans'. They are an integral part of the show with quite a lot of responsibility and there is a lot for them to adjust to. They rehearse their part before the show arrives but they don't get to try on their costumes before the first night, so it's quite difficult for them, but the local stage school in Belfast has a good reputation."
Following her role as Miss Hannigan Su will take a well-earned holiday in Las Vegas where she is also in talks to take on some shows in the entertainment capital of the world, before coming back to England to take on the role of the Wicked Queen in Panto this Christmas.
Whilst fans know and love Su from her roles on television shows such as Hi-de-Hi or You Rang M'Lord?, she says theatre is where her heart truly lies.
"It's great to actually be in a successful TV show, it's a springboard, but I adore theatre work. You are completely in the moment, there are no retakes. In TV you may be able to do something in one take once in a while, but usually you retake something from a different angle and you have to do it over again. In theatre you are absolutely in the moment entertaining people. It is lovely to be able to see everyone's faces enjoying the show. You can't beat the buzz of the theatre, when you hear the overture and your putting on your make-up; I just love it."
Encouraging local people to come along to the show, Su concluded: "Anyone coming to the show will come in and if they have got any troubles, they'll totally forget them. It is just an enjoyable night out and they 11 come out smiling."
stacey.heaney@ulsterstar.co.uk
Ulster Star
11/09/2009