Chairman of Ulster NZ Trust
stands down after two remarkable decades
by MARY MAGEE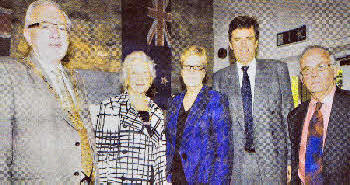 Lisburn Mayor ClIr Allan Ewart, Mrs Jill Mclvor outgoing chairman of Ulster New Zealand Trust, Mrs Margaret Lee Honorary Counsul for New Zealand in Northern Ireland, New Zealand High Commissioner in London Derek Leask with David Twigg, Vice chair of the Ballance House committee.
US3909-105A0 Picture By: Aidan O'Reilly
THE CHAIRMAN of the New Zealand Trust and the driving force behind the restoration of the Ballance House at Glenavy, Jill McIvor, is standing down after 22 years.
It was in the early 1980s that Jill's son was studying politics and discovered that former New Zealand Prime Minister John Ballance hailed from Glenavy. They made contact with the present owner of the family home and farm, who were living in a new house but agreed to haite the demolition of the old building. It was on the 148th anniversary of the birth of John Ballance on March 27, 1987 that Jill spoke to friends who all later became trustees, about restoring the cottage. They included Robert McKinstry, an architect, Dr George Thompson the then Director of the Ulster Folk Museum, Lady Faulkner and Trevor Neill, Chairman of Lisburn Historical Society.
A voluntary group was formed and the long process of restoring began.
They got a 50 per cent grant from the International Fund for Ireland to partially build on the site of the original cottage. A committee was formed, they got a geneous lease from the owner and successfully applied for grants to have the house restored and opened to the public. Over the next two decades Jill has helped oversee a remarkable transformation and the strengthening of links between Northern Ireland and New Zealand.
'A lot of people did not know that Ballance House had existed and I think people were impressed at the idea of rescuing an old historic house and restoring it." she said. But now she has decided the time is right to step down, although she insists that she will continue her work as an active volunteer.
New Zealand dignitaries were among those who attended a reception and lunch in honour of Jill last week. Among those present were Mr Derek Leask, the High Commissioner for New Zealand to the United Kingdom and Margaret Lee the Honorary Consul for New Zealand in Northern Ireland.
And she paid tribute to everyone who has helped her on the remarkable odyssey over the years.
Looking back at two amazing decades Jill said: "The volunteers we have are great and are very committed and passionate people. We no longer get any grants and we raise all the money ourselves to cover costs like rent, insurance and electricity.
"People have been so good to us and we got a lot of support, especially from New Zealand. People have worked very hard and I feel very privileged to have been part of that."
The new chairman is Pat Donnelly.
Ulster Star
02/10/2009