New play unravels the impact of breast cancer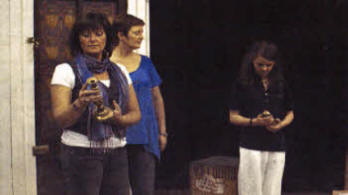 (L to R) Gemma Rice as Lola; Pamela Mills as Rose and Niamh Clarke as Lyndsey in rehearsals.
AS part of the Ulster Cancer Foundation's Think Pink! breast cancer awareness campaign, the play, 'Unravelling the Ribbon' will be performed in Belfast for the first time by local company the Belvoir Players.
The play, by Irish writers Mary Kelly and Maureen White, will run from Thursday October 8 -Saturday October 10. It tells the touching story of three women who come together to help each other cope with the changes that breast cancer brings to their lives and the impact that it has on their families.
The play has three central characters - Rose, Lyndsey and Lola. Rose is a young mother struggling to come to terms with her breast cancer diagnosis. Lyndsey is her 11 year old daughter who thinks her life is over because she's had a fight with her best friend and Lola, who had breast cancer five years ago, is having trouble letting go of her dead husband.
The play is very sensitively directed by Richard Mills, Artistic Director with Belvoir Players who has directed over 100 productions for this ambitious theatre company.
For Barbara Girvin, stage director for the Belvoir Players production, the play mirrors her own experiences when she was diagnosed with breast cancer just last year.
"I can really identify with the play," said Barbara. "It is a very honest and sensitively written piece and I can relate so much to both the Rose and Lola characters. I shared their fears and worries on initial diagnosis and I love the way the play uses humour - which definitely helped me through some of the bad times like losing my hair. "I was diagnosed on 11th June 2008 after experiencing a 'heavy' feeling at the side of my left breast. I just knew that something was wrong so I went to see my GP and after referral to the breast specialist I had a mastectomy followed by 6 sessions of chemotherapy and 25 sessions of radiotherapy.
"Treatment wasn't a very pleasant experience and I was constantly worrying about whether or not I would survive. There is no doubt that this is a very anxious time - the whole experience is completely unknown - but I got a lot of help from the breast care nurses who were always available for advice and reassurance during my treatment period. My family and close friends were also wonderful and allowed me to concentrate on dealing with my treatment - you really have to learn to be selfish at this time. "The Ulster Cancer Foundation were wonderful. I've used many of their services including their bra-fitting service, the Beauty for Life sessions that the charity runs in association with Clarins and the Love your Life course led by Jenny Grainger. These really helped to give me the confidence and enthusiasm to get on with my life.
I would encourage everyone who has been touched by breast cancer to come and see the play. It gives a very honest account of what women and their families go through when breast cancer is diagnosed. A diagnosis of cancer is not the end of the world although it may seem so at the time - there is light at the end of the tunnel."
Tickets for Unravelling the Ribbon are available from Belvoir Players Studio Theatre, 94 Belvoir Drive, Belfast, BT8 7DT, Tel. 028 9049 1210 and cost £8 for adults and £6 concessions.
julieann.spence@ulsterstar.co.uk
Ulster Star
02/10/2009