WALKING FOR JOSH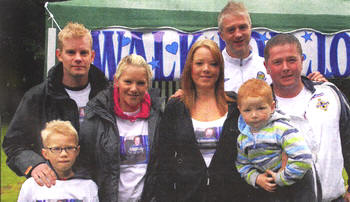 At the 'Walk for Josh' held in Hillsborough Forest Park are Richard Ogle, Dylan Ogle, Emma McMinn, Elaine Maginnis, Taylor Baxter and Gareth Baxter. Also included is Linfield footballer William Murphy who went along to support the event.
Large crowd takes part in sponsored walk in aid of the Royal Victoria Hospital
LINFIELD player William Murphy joined more than 200 people at the weekend to raise money in memory of tragic young Dromore boy Josh Ogle who died four months ago.
The sponsored walk, organised by Josh's aunt Emma McMinn, took place in Hillsborough Park on Sunday, just a day after Josh would have turned seven, with all proceeds going to the Royal Victoria Hospital's Children's Unit.
The six-year-old was found dead at his home in Thornhill Drive in what is thought to have been a case of Sudden Death Syndrome.
While not much is known about the condition the hospital is continuing to investigate its causes and prevention, and the money raised from the walk will go towards the ongoing research.
After letting family and friends know of her fundraising plans, Emma was inundated with people keen to get involved with the charity walk and was delighted when family friend Murphy decided to join the walkers at the weekend.
"I just wanted to do something for the hospital," said Emma.
"We are all still very much in shock at Josh's death but we feel we are doing something positive by raising this money."
People from Banbridge, Rathfriland, Dromara and further afield walked either one, two or three miles on the day, and many more who could not take part in the event made generous donations.
While the final total is not yet known, Emma hopes to have raised as much as £2,000. A cheque will be presented to the Children's Ward of the hospital at the end of this month. At the time of his death Josh's aunt, Dawn Magennis, spoke of the family's shock and sadness.
"Our family circle is absolutely devastated," she said. "He was a normal wee boy, a bit of a clown who loved to make people laugh.
"He was very close to his brother Dylan; you wouldn't see one without the other.
"He was a very bright boy."
Son of Elaine and Richard Ogle, Josh was a younger brother to Dylan Ogle (8) and older brother to Taylor Baxter (3).
Josh would have been beginning a new term in Primary three at Dromore Central Primary School this month.
Headmaster, Mr Cochrane, speaking just after Josh's death described him as "a lovely little boy" and "a very gentle and innocent child".
Ulster Star
11/09/2009