Clock to go back as wartime Lisburn is re-created
by SARAH TOLAND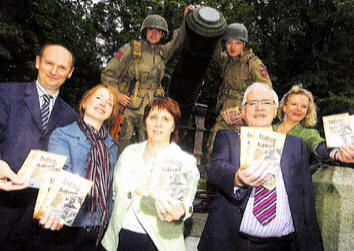 Gregg Hall and Neal Armstrong from the Wartime Living History Association , Alan Clarke Lisburn City Centre Management, Louise Smith of Island Arts Centre, Councillor Jenny Palmer, Lisburn Mayor Allan Ewart and Anthea McWilliams, Chair of the Richard Wallace Trust, launching the Lisburn Historic Quarter Festival. US36O9-1O9AO Picture By: Aidan O'Reilly
EVERYONE is being invited to step back in time to wartime Lisburn at the city's Historic Quarter Festival this weekend. On Saturday September 12 from 10am-4pm the clock will be turned back seven decades as Market Square and Bow Street are transformed with a unique World War II re-enactment and display by War Years Remembered and Living History. This event, marking 70 years since the start of WW II, will provide opportunities for all the family to get involved in the exhibitions, take part in a WW II style army patrol of Bow Street, and jump behind the wheel of war vehicles.
Those who really want to get into character can board Translink's vintage 1940's bus and step off dressed up in pre and post war attire.
The event has been planned to tie in with this year's European Heritage Open Days on September 12 and 13 and a number of buildings are open this year with various displays.
Anthea McWilliams from the Richard Wallace Trust said: This is a great chance for people to find out about their historic buildings and characters such as Sir Richard Wallace. We are looking forward to showing people around our display in Castle House and taking those who register on our free Richard Wallace Tour." Tours must be booked in advance on 028 9266 0625.
Another building open this year is the Orange Hall on Railway Street and everyone is invited to see around the building and take a look at the various displays showing its history.
The Irish Linen Centre and Castle Gardens are also taking part where you can see Lisburn's 400th anniversary display or book onto a free Lisburn City or Gardens Trail. Again tours must
be booked in advance on 028 9266 3377.
Cllr Jenny Palmer, Chair of Council's Economic Development Committee, said: "I'm delighted to see the cafes around Market square are putting on special offers and special menus for the weekend so come get yourself and the family into the heart of Lisburn's Historic Quarter on what is sure to be a fun filled weekend."
The Mayor, Cllr Allan Ewart said: "This event provides people with a great reason to come into Lisburn City Centre for fun and to find out about the history of the area and, on the 70th anniversary of the start of WW II, the country's involvement in the World Wars.
It's great to see the Lisburn Historic Arts Group and Lisburn City Centre Management putting on these events for the city." This event has been supported by Lisburn City Council Community Festival Fund.
Gregg Hall and Neal Armstrong from the Wartime Living History Association , Alan Clarke Lisburn City Centre Management, Louise Smith of Island Arts Centre, Councillor Jenny Palmer, Lisburn Mayor Allan Ewart and Anthea McWilliams, Chair of the Richard Wallace Trust, launching the Lisburn Historic Quarter Festival. US36O9-1O9AO Picture By: Aidan O'Reilly
Ulster Star
11/09/2009