Read all about it - will you marry me?
by MARY MAGEE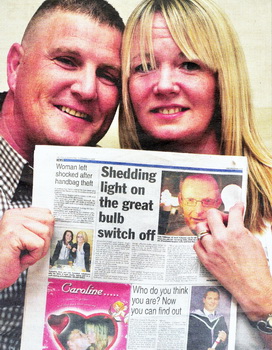 WHEN you open your copy of the Ulster Star you might see something unexpected. But few people have been as shocked as Maghaberry woman Caroline Harper who got a marriage proposal in last week's paper.
Her boyfriend of 20 years, Wayne Downey, popped the question by placing a quarter page advertisement asking for her hand in marriage.
The owner of TDF Fuels on the Moira Road Wayne (39) had already got down on bended knee while on holiday to Spain in June on a night out, but then realised he had forgotten the ring.
Forever the romantic he wanted an extra special proposal, one that 37-yearold Caroline who works with him, would remember forever.
Knowing that she is an avid reader of the Star - Wayne decided to really surprise her.
So as she read the paper in the office last Thursday she was shocked, and thrilled, to be presented with a beautiful cluster diamond ring. But that was nothing to the shock of seeing the ad and the photograph Wayne had chosen.
"That picture was taken five years ago when we were in Salou," she said horrified. "I don't even have my hair dried in it.
"I was just going through the paper in the office and saw the picture of me and the word Caroline in an advert. It dawned on me. There was nothing else I could do, I just kissed him. He just said 'Will you Big Girl?' How can you say no to that."
The pair have been together for exactly 20 years, since September 5,1989.
They were at the Coach in Banbridge when their eyes met across the dancefloor and for Wayne it was love at first sight. They danced to a slow song and have since enjoyed two decades of togetherness and have two children David (17) and Nathan (11).
Wayne wanted to ask Caroline for some time now and be married before his 40th next year. So while on a flight to Salou in June he had planned to get down on one knee on a packed aeroplane but then bottled out at the last minute.
In fact he has already proposed the old fashioned way. During a night out in Salou he took the microphone and went down on one knee to ask for her hand in marriage. However, he could not give her the ring as he had left it back in the hotel.
Caroline said that Wayne has always been a romantic.
"I just was not expecting this. Marriage was never in the equation for us. We had never thought of marriage - I just always thought well if it's not broke don't fix it.
Wayne said he has been receiving a serious ribbing about the proposal.
"I knew I would get a little bit of stick about it," he said. "I started to get text messages from people who had seen it. All I can say is that they are just jealous. Jealousy is an awful thing."
The pair are now planning their big day for April next year, but Wayne has not ruled out more surprises before then.
Ulster Star
11/09/2009