How a Lisburn councillor fulfilled lifelong ambition to take to the air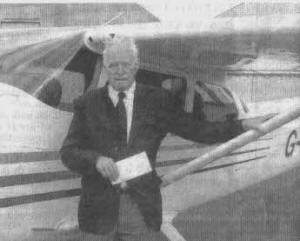 A LISBURN Councillor is set to tell a radio audience the story of how he gained his 'wings' back in the 1970's.
Mr William Ward will recall his first solo flight in December 22, 1975, on Radio Ulster's 'Days Like This' programme later this month.
He explains that his "desperate urge" to fly was kindled in his childhood brain from the day when his mother was taking him by the hand in one of the fields on the farm, at Aughandunvarran, near Dromore. His mother said: "Wouldn't I love to be up there in the blue, son, in that lovely aeroplane". Mr Ward looked up at the tiny white speck in a clear blue sky, floating quietly as "a feather in the breeze".
He said: "From that day's nurtured thought the desire grew and grew like Topsy. So overpowering did it become that, as a nine-year old boy hating school and having heard a wartime radio appeal for recruits for the RAF, I wrote off to the Recruiting Officer, thinking that I could persuade him to give me lots of very early training to make me an ace pilot. I reckoned I could kill two birds with the one stone by getting away early from the hated school and enjoying my dream ambition", ironic considering he later became a head teacher.
"I soon regretted my action - the recruiting officer had given details of my letter to the newspapers who published my article, warts and all, under the title; 'His Day Will Come. The amount of teasing from family and school pals made me regret my action - so much so that I hid under a pile of hay for the good part of the next day to avoid any more taunts", he said.
Mr Ward continued: "Soon they forgot, but I didn't. My ambition strengthened when my older brother joined the RAF and came home on leave with his brightly shining buttoned uniform and shiny peaked cap. The desire ate at me like a gnawing canker until I took my first flying lesson at Newtownards. My flying instructor was the late Tubby Dash, a wartime ace pilot who could manoeuvre any plane as easily as an eagle in full command of its ethereal domain. I cannot easily describe my inner joy of floating over those beautiful islands of Strangford Lough, in a sheer blue sky, all the while remembering the longing of my mother forty years earlier - 'Wouldn't I love to be up there in the blue in that plane?'. Sadly, she never did manage that, but how I wish she was now around, for her wee son to take her up into the blue."
All those hours of practical and theoretical training culminated in Mr Ward's first solo assignment to fly to and land at an international airport - Aldergrove - without the moral comfort of Tubby Dash beside him.
He said; "My heart did miss more than one beat when several miles from Aldergrove I looked up to see a massive passenger jet on exactly the same flight path, but obviously heading for a landing some minutes before my tiny Cessna. All ended well when I heard the words, "Clear to Land" over my radio and then feeling ten feet tall as I walked across the tarmac to make my report."
* The programme will be on Radio Ulster on Saturday October 24 at 7.55am and repeated on Sunday October 25 at 11.55am and will also be featured online on the BBC Radio Ulster website: www.bbc.co.uk/northernireland/dayslikethis.
Ulster Star
23/10/2009