Watch out for `Willie Nickit'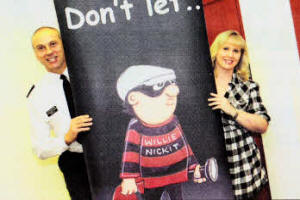 LISBURN people are being urged not to make their home an easy target for burglars and to get the message across the PSNI and Safer Lisburn Community Safety Partnership have launched a new crime prevention character 'Willie Nickit'. Using a new concept in raising awareness, the character has been created to act as a visible reminder to everyone to think about their home and personal safety. The first campaign focuses on home security and by taking some simple steps, the message is clear, 'Don't Let... Willie Nickit'.
Constable Willie Johnston, Crime Prevention Officer, Lisburn Police commented: "The reality is that most burglaries are carried out by opportunistic thieves rather than 'professional' criminals. They are looking for the easiest way of getting into a house without being seen or disturbed. By using Willie Nickit as a crime prevention tool, I hope that when people see him, they will be reminded to lock
doors and windows and not give criminals the opportunity to steal from them." Jacqueline Crockett, Safer Lisburn Communications Manager said: "Domestic burglary is a crime that can have a significant impact on peoples' lives. It can take a long time to come to terms with the loss of personal possessions as well as the loss of confidence that can result from a stranger being in your home. We want people to think about the security of their home and we hope that 'Willie Nickit' will be a visible reminder to everyone to take the time to ensure they have taken the necessary steps to secure their home."
Further information and advice will be available during a series of information sessions across Lisburn in main shopping areas which will take place during October and November or you can contact your local Crime Prevention Officer at Lisburn Police Station.
Const. Willie Johnston and Jacqueline Crockett, Communications Manager Safer Lisburn, launch the new crime prevention character Millie Nickit'.
Ulster Star
16/10/2009