Chelsea nets the top award at Young Achievers' Ball
by MARY MAGEE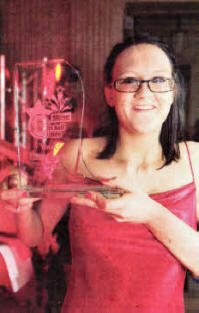 A LISBURN teenager has been honoured as one of the Northern Ireland's most inspiring young people at a glittering event in Stormont.
Chelsea Brown (17) scooped the Young Mentor's Award at the Daily Mirror's Youth Achievers' Ball, while other local young people were also recognised. The champion achiever was one of 400 young people from across Northern Ireland given the chance to shine at the glittering gala event which was hosted by Lagan Valley MLA Basil McCrea. Chelsea won from 44 young people nominated from vital projects across the province. She headed up an anti-racist and anti-sectarian art project through the Hillhall Young Initiative where she was instrumental in forming the first ever Hillhall Youth Committee.
In her nomination she said she felt especially able to understand the problems of racism having lived abroad for a number of years due to her father's work commitments and often feeling the 'outsider' in those communities. Other Lisburn projects represented at the gala event included Hilden Youth Initiative, Stevenson Youth Club, the ASCERT project, Women's Aid, Old Warren Youth Initiative and the Maze Youth Initiative.
Chelsea's fellow winners were Colin Clarkin from North Belfast, Young Mentors; Karl Phillips, Derry, Young Carer and Natasha Thompson, Young Innovator.
They each received a trip for two to Europe and spending money from the Daily Mirror, while the Big Lottery Fund announced that it will support the event for the next two years by offering awards of £1,000 to boost the work of the projects that support
the four Youth Achievers. Mr McCrea said: "The amazing attitude and work of these young people has been rewarded but so too has the work of their group leaders and peers because they will receive an amazing award from the Big Lottery Fund.
"These young people give me hope for the future of Northern Ireland. They show great strength of character, resilience and a desire to make their world a better place to live. I was delighted to host the ball in the hall on Saturday and know that these teenagers were in a group of 400 other people whose example in life are simply inspirational.
Walter Rader, the Big Lottery Fund's NI Director said: "Every one of the young people has achieved something in their lives - many of them in spite of huge difficulties - whether that was through their commitment to caring for a lived one or helping to set up youth facilities or events in their own areas and thereby making a difference in their communities. And these achievements are being recognised by their involvement in the event."
Ulster Star
09/10/2009