Council launches 400-year cityfest events guide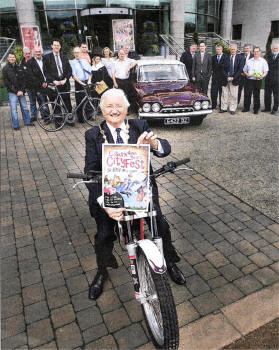 LISBURN City Council has launched a CityFest Events Guide as part of its 400th Anniversary Celebrations, detailing key events being organised for its residents from May 1 - 23.
Whether it be football finals, boxing competitions, cycling races, contemporary and classical music, open air concerts, family fun days, vintage car displays or historical exhibitions, the CityFest programme of events across the City offers something from everyone. This is the first in a series of programmes of events
designed to celebrate Lisburn's 400th anniversary. Events throughout May at Island Arts Centre include concerts and theatre performances. Sporting events include a junior football league final and a Lisburn city cycling event, a special Mini car display in Wallace Park and an outdoor Music Concert in Moira Demesne will take place on Saturday May 2. A major exhibition on 17th Century Lisburn is due to open in the Museum, Market Square on Saturday May 23. At the CityFest Launch this week, The
Mayor, Councillor Ronnie Crawford said: "We are very proud of Lisburn's history and heritage and hope that our May CityFest brochure will provide a variety of event experiences for all age- groups and interests.
I hope our residents enjoy and attend the variety of events on offer," he concluded. Full event details can be found in the CityFest Events Guide, which is available for members of the public at all Council facilities and Tourist Information Centres or view on-line at
Ulster Star
01/05/2009