Dunmurry High ends 40th anniversary celebrations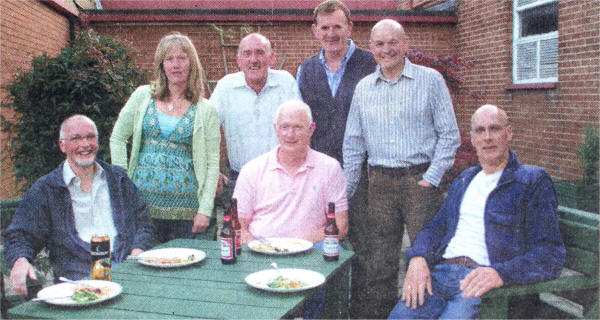 Paul Walker, Ellen Hillan, Nigel Millar, Paul Moore, Ken Armstrong, Paul Bennington and Ken McGraw
DUNMURRY High ended its year of celebrations, marking the 40th anniversary of the school, with an open evening and barbecue for past pupils and former members of staff.
The evening surpassed everyone's expectations with a larger-than-expected number of people attending. Many had travelled from all parts of the province and indeed from across the water, to take part in this momentous and extremely nostalgic occasion.
For some it was their first visit to the school since completing their secondary education.
Others, however, have been back many times as it is the place where their own children are being educated.
Those present spent many enjoyable hours reminiscing about the good old days and renewing old acquaintances as they revisited classrooms or looked at the hundreds of photographs on display recording the school's history.
Enjoyed
Despite torrential rain earlier in the day, the weather was kind and everyone enjoyed a delicious barbecued meal before getting back to the serious business of recalling memories from the past, catching up on intervening years and, of course, swapping contact details.
The one question on everyone's lips, needless to say was, "Where have the years gone?" and indeed for everyone it only seemed like yesterday since they had last met despite the fact that for many, it was over 30 years ago.
The school would like to thank everyone who took part in this year's celebrations and looks forward to seeing them all again in ten years time.
Anyone who was unable to attend any of this year's events can catch up on all the news by purchasing a copy of the school's 40th anniversary magazine which is available at the school's main office for £3.
Past Pupils with Past Staff — Dalton Ross, Dorothy Armstrong, Lawrence Hooke, Vilinda Ross, Brian Walsh, Valerie English and Gerry Nixon.
Linda Kerr (Armstrong), Catherine Mack (Tiffen), Roberta McKinstry (Loughhead), Pamela Moore (McMillan), Angele Lemon (Porter) at Dunmurry High School's open night and barbecue.
Past pupils with past staff at Dunmurry High School. Linda Ballard (Armst

ro

ng), Debra Kilpatrick (Robinson), Pat Ireland (Crawford), Audrey Shanks (Pepper), Betty Poots (Jefferson), Lisa Miskimmon (Turkington).
Mother and daughter Ruth and Ellen McCalmont.
Ulster Star
17/07/2009