New jobs at technology company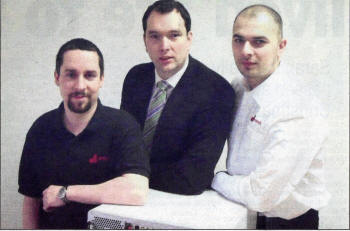 AMIDST the barrage of gloomy economic news a Lisburn based software and product development company has announced the creation of 10 new Engineering development posts over the next twelve months.
Arcatech, based at Enterprise Crescent off the Ballinderry Road, is planning to increase its overall workforce to 17 after signing a lucrative new deal with a leading French telecommunications specialist Wavetel who will act as Arcatech's main distributor for France. The firm designs and develops its own range of telecoms test platforms for global telecommunications and data communications organisations such as 3Com, BT, AT&T, Cisco, Ericsson, Intel, Nortel, Panasonic and Samsung and currently operates through an international sales network that includes over 40 distributors in 30 countries worldwide.
Reflecting on the continued growth of the business, arcatech CEO Terry Simpson said he was pleased to announce the addition of Wavetel as the company's distributor for France. "Wavetel have a highly experienced team of Network and Telecoms Testing Engineers. Its location in Rennes close to the French telecommunications cluster makes it the ideal partner for arca to promote and support our range of telecoms testing solutions. Adding a strong partner such as Wavetel signals our company's intention to vastly expand our global presence at a time when innovation and value are the key to maintaining our steady growth."
"Arcatech is positioned extremely well in the telecoms test market and has significant opportunities for expansion. One positive side effect of the current economic situation has meant the challenges of getting suitably qualified people to enable this growth would appear to have subsided, making our growth plans more achievable now than at any time in recent years."
Ulster Star
23/01/2009