VC heroes are remembered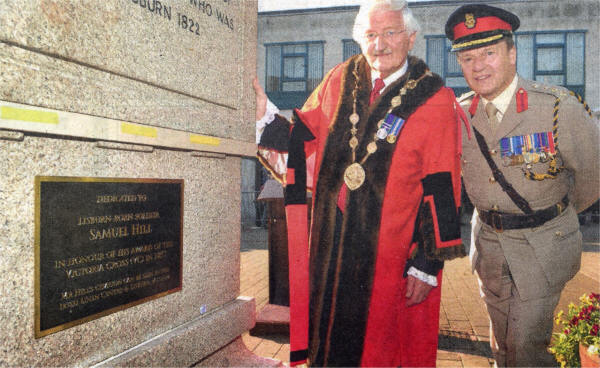 Lisburn City Council Mayor, Councillor Ronnie Crawford and Deputy Commander Colonel Philip Thorpe unveiled one of two plaques in Lisburn City centre last Friday evening to honour local Victoria Cross recipients Corporal William James Lendrim and Sergeant Samuel Hill. The Pipes and Drums of 2 Royal Irish/152 Transport Regiment performed at the Ceremony to honour local Victoria Cross recipients in Market Square. Lisburn.
THE sun was shining in Lisburn City Centre last Friday evening as representatives from the Armed Forces, Lisburn City Council and members of the public came together to honour two local Victoria Cross heroes.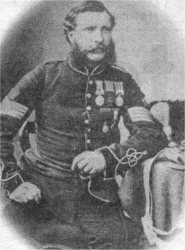 Plaques were unveiled at the Nicholson Memorial by the Deputy Commander Colonel Philip Thorpe and Lisburn's Mayor, Councillor Ronnie Crawford to pay tribute to Corporal William James Lendrim, VC, born in Lisburn in 1830 and to Sergeant Samuel Hill, VC, born in Glenavy in 1826. Both soldiers were presented with the Victoria Cross before their deaths.
The crowd was treated to a musical programme by the Pipes and Drums of 2 Royal Irish/ 152 Transport Regiment. Corporal Lendrim, Royal Sappers and Miners, was awarded the Victoria Cross for courage at Sebastopol, Crimea, in1855 and was presented with this by Queer Victoria on 26th June 1857.
Sergeant Hill, 90th Perthshire Light Infantry won his VC at Lucknow, India in 1857 for gallantry. He was killed in action in Meerut India in 1863.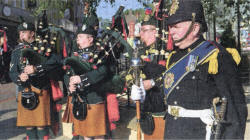 Both citations are available to view at the Irish linen Centre and Lisburn Museum. Speaking at the unveiling ceremony Councillor Crawford, said: "I do not think that a greater privilege could befall me as Mayor than to be involved here in a ceremony in which we will unveil two newly commissioned Victoria Cross plaques, to honour the memory of two gallant Lisburn-born soldiers and their deeds of bravery.
"I am especially proud that in our 400th year, and as we mark this anniversary and look onwards, that we have had the opportunity to be here tonight.
"The greater Lisburn area has long been a fertile recruiting ground for our crown forces, and we are immensely proud of our long history as a military Garrison and our close connections to our Armed Services. In every generation people left the fields and factories of this valley to fight for freedom and democracy all over the world. Wherever Irish
Regiments have been deployed throughout history, they have distinguished themselves as great soldiers. "Their deeds will never be allowed to fade from the memories of the Lisburn people who as they pass by these two plaques will recall their deeds with great pride and affection."
Ulster Star
05/06/2009