Local chemist has prescription for success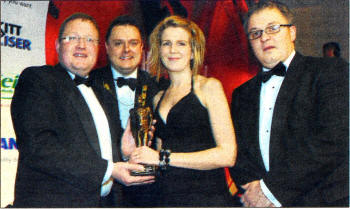 A LOCAL pharmacy has picked up a top honour at a glittering awards ceremony in Belfast recently.
The team at Aghalee Pharmacy left the competition behind when they were announced as the winner of the Commitment to Health and Well-Being Award during the Pharmacy in Focus Awards at the Ramada Hotel.
The Award is a unique accolade because entrants were nominated by a member of the public before being judged independently.
One lucky customer of Aghalee Pharmacy will be chosen in a fortnight to win £200 as a 'thank you' for their nomination. The team were lauded for their excellent customer service, comprehensive variety of healthcare services and empathetic approach to caring for their local community.
"We are absolutely delighted to have been named winners and we have all worked so hard to ensure that all of our community's healthcare needs are met locally, conveniently and effectively," explained pharmacist Lorna Kelly. "This is obviously recognised by our customers due to the nature of the Award. The fact that we are always willing in whatever way we can to help our customers is where our success is rooted and as we are based within a small community, we're often always the first port of call -not just for health queries but for all sorts of things people need to discuss. We regularly look at how we can continually improve and develop our services and take into account what our patients need and could benefit from."
All of the Aghalee Pharmacy staff are in a public-facing role, from delivery driver Jim Woods and counter assistants Siobhain Mullholland and Florence Irwin, to pre-reg trainee Wendy Ferry and supervisor Tracey Nolan. "It is a testament to our team and it is lovely to think that our combined commitment to healthcare has been acknowledged in this way." added Lorna.
Ulster Star
23/01/2009