Alana hopes to `nail' top prize at beauty awards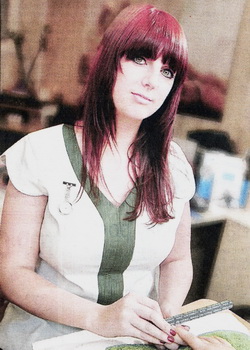 Alana Fraser, from the Jeanette Kidd beauty salon, has made it through to the final of the Manicurist of the Year competition in the British Beauty and Spa Awards. US3309-556cd
LISBURN manicurist Alana Fraser will soon be off to the 'Oscars of the beauty world' as a finalist in the Manicurist of the Year category at the prestigious British Beauty and Spa Awards.
Delighted Alana, who works at the Jeanette Kidd Beauty and Day Spa in Lisburn, will attend the awards ceremony in London on September 6, where she is the only finalist from Northern Ireland in her category.
This is Alana's first time at entering the awards and she is thrilled to have gone so far, however, she is hoping to do even better at the lavish awards ceremony next month.
With the practical final having been held in July in London, Alana and her fellow finalists are now eagerly awaiting the result.
Alana commented: "There are six people in the final from all over the UK, although I'm the only one from Northern Ireland. We had to produce a portfolio with all of our work with photos, case studies, achievements and plenty of before and after photos. We work with all natural nails and you have to show the stages of your work."
Alana was then put to the test as she had to complete a full manicure in front of the judges.
"We had to do a full manicure routine, including painting the nails. It was quite nerve-wracking, although we had two hours which is longer than in the salon," she said.
"Everyone at the salon is delighted, it has given everyone a push to enter a competition seeing someone have success."
Alana entered the contest after she attended a master-class in London earlier this year. She commented: "I met a couple of previous winners at a Masterclass run by Jessica the nail company and after seeing their work I thought I would take part.
"I'm delighted to be a finalist. Even if I don't win, it is still a good achievement and it will be fun attending the awards do, it is quite a big night in the beauty world, so I am looking forward to it. If I win, then it will be even better."
Ulster Star
28/08/2009