Allister drums his way into Guinness World Record books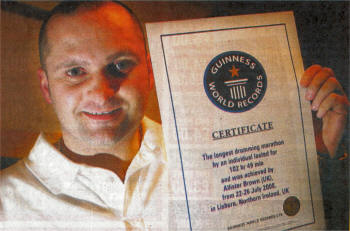 Allister Brown with the official certificate he received from Guinness World Records for recording the longest drumming marathon. US0509-115A0
LISBURN musician Allister Brown has drummed his way into the record books after receiving official confirmation that he had broken the world record for drumming.
Allister received his certificate from Guinness World Records and is delighted at the recognition. "When I received word that my record had been confirmed from Guinness World Records I couldn't believe it," said Allister.
"To me it was the icing on the cake. After becoming the first person to officially play over 100 hours and also be the first person to break this record more than once, I can safely say that I will not ever attempt this type of endurance record again."
Allister has thanked everyone who supported him during his record breaking attempt and for helping to raise funds for Cystic Fibrosis.
"The main people I would like to thank for making the record happen would be Stephen and the staff at Music Matters, Linda and all the Cystic Fibrosis volunteers, the Cherry family, all my family for supporting me, Fabrite Engineering, all of Team Ali, my friends and sponsors. A huge thank you also to the people who gave so generously for the charity.
"The most important part of the event for me was to raise awareness of CF and to raise money for the charity, the World Record was a bonus but one I will never forget."
Ulster Star
30/01/2009