Young local dancers chosen to take part in BBC programme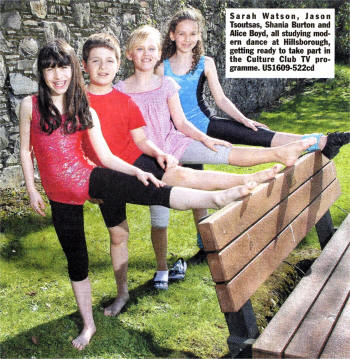 FOUR dancers from the Amber Gordon School of Dance based in Hillsborough have successfully auditioned for a BBC Northern Ireland programme Culture Club.
Hundreds of enthusiastic young dancers from both sides of the border auditioned for the programme at the Blackstsaff Studios in Belfast and four of the successful candidates are from the Hillsborough based dance school.
The successful dancers are Alice Boyd (10), Shania Burton (9) Sarah Watson (10) and Jason Tsoutsas (8).
Successful
The programme follows families from different cultures who live in the Northern Ireland. The cameras follow them, finding out why they are in here and taking them through different cultural events.
Those who were successful in the auditions will be asked to take part in various dance routines that reflect a particular culture. Amber Gordon said she was thrilled for the children who have got through as the competition was very fierce.
"There were a a lot of children who took part and the competition was very tough - so for four to get through from the school is very good," she said.
"We are obviously very pleased for the children - to get through is quite an achievement.'
Ulster Star
24/04/2009