Tragedy strikes again as crash victim's boyfriend found dead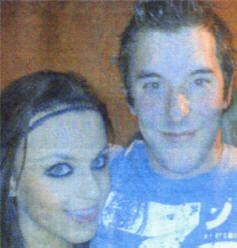 Andrew McQuiston with girlfriend Danielle Houston.
FAMILY and friends of Kinallen teenager Danielle Houston, killed in a road accident on July 1, were plunged into fresh tragedy when her grieving boyfriend was found dead late last week, having apparently taken his own life.
Danielle's mum Michelle is said to be devastated by the death of 23 year-old Andrew McQuiston, whose body was found at a car park in Moneyslane on Thursday (July 23);
Police, who recovered a firearm at the scene, are not treating his death as suspicious at this time.
A friend of 19 year-old Danielle and her family, Roy Carmichael said everyone's thoughts were with Mr. McQuiston's mother Grace and other relatives as they struggled to come to terms with the loss of "a real gentleman" who loved Danielle and had taken her loss hard.
Mr. Carmichael, who along with his sister Claire (Danielle's best friend) and her mum Michelle, attended Andrew's funeral in his home town of Kilkeel on Saturday, said they were all finding things very difficult.
Though Andy' and Danielle had been seeing each other for some five or six months, he said, they - Danielle's friends and family - had only really got to know him properly after her tragic death; he emerged as a young man who loved cars and motorcycles and tried to spend every possible moment with Danielle.
"Danielle's mum Michelle is devastated about the news," said Roy. "We were all proud that we got to meet Andy; we thought he was a real gentleman and he really loved Danielle and now we believe they are both together.
"Our sympathies go out to Andy's mum Grace and the family, as they were very close."
Roy added an appeal for anyone feeling down or depressed to speak to someone about it.
"He (Andy) found things hard, like the rest of us," he said, "and we only hoped he would have come and talked about things to someone, but it's too late now. "We all find things hard to deal with but if anyone feels down and depressed they should talk to someone, or call Lifeline, as there has been too much hurt from young people taking their own lives. So please, talk to someone!"
Mr. McQuiston was the only son of Grace, of Milivale, Kilkeel, and grandson of Frank and Evelyn Cowan.
Ulster Star
31/07/2009