Mayor to mark 21st anniversary of fun run bomb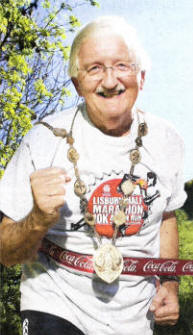 THERE will be a short ceremony at this year's Lisburn Fun Run and Half Marathon to remember the six soldiers who were killed in a bomb blast after taking part in the event 21 years ago.
The city's Mayor, Councillor Ronnie Crawford, will pause to remember the men who lost their lives when an IRA bomb detonated under their minibus as it drove through Market Street after the half marathon on June 15, 1988. the soldiers were stationed at Thiepval Barracks.
Many other people were injured, some seriously" in the blast.
And on June 17, after completing this year's fun run" Mr Crawford will lay a wreath at the plaque in Market Street in memory of those who lost their lives.
Barbarity
Speaking at a meeting of Lisburn City Council, Alderman Ivan Davis said: "June 15, 1988 saw an act of barbarity unparalleled in the history of the then Borough of Lisburn when six of our soldiers, at the conclusion of the half marathon and fun run event" were brutally murdered. It would be appropriate for a wreath to be placed at the site on the 21st anniversary by the Mayor."
Agreeing with Alderman Davis, the Mayor said: "I remember that night vividly as I took part in the 10k run that night.
"I remember the aftermath and the cloud that descended after what had been an excellent night.
"It was a great tragedy that has left a scar on the face of Lisburn and it is very appropriate that we lay a wreath in memory of those that died," he concluded.
Mayor urges local people to 'just give'
LISBURN'S Mayor, Councillor Ronnie Crawford is urging everyone to support the charity Diabetes UK, in the run-up' to his participation in the fun run, as part of Lisburn's Half Marathon, June 17. Diabetes UK is the designated Mayor's charity as well as this year's official charity for the event. With training well underway the Mayor is asking locals to support him: "In order to raise substantial funds for Diabetes UK, I am inviting people to make donations through the website www.justgiving.com/lisburnmayor. Any donations, no matter how small" would be most welcome and I pledge to give 100% in my attempt at the fun run. Making what may seem like a small sacrifice can make a huge difference to a worthwhile charity
"I am showing my commitment to the charity by taking part in the fun run and I would ask that you would support me in my efforts. Donating through Justgiving is quick, easy and totally secure. Its also the most efficient way to sponsor me: Diabetes UK gets your money faster and" if you're a UK taxpayer, Justgiving makes sure 25% m Gift Aid, plus a 3% supplement, are added to your donation I really appreciate your support and hope that the people of Lisburn will come along to cheer on the runners."
Ulster Star
12/06/2009