Lisburn joiner helping to revive our architectural heritage
by JENNY MONROE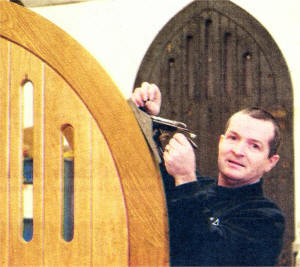 A REPORT by the National Heritage Training Group (NHTG) has highlighted the serious skills and knowledge gaps affecting builders and craftspeople working in Northern Ireland's built heritage sector, but one Lisburn man is continuing to revive our architectural heritage.
George Irwin, has worked as a specialist joiner for 31 years and by doing so has kept alive a family tradition, since both his father and grandfather also worked in the joinery business
After completing his joinery apprenticeship at South Eastern Regional College, George worked with a network of experienced craftspeople in the Northern Ireland Environment Agency historic monuments department.
It was there that he spent time undertaking repair and maintenance of some of Northern Ireland's most famous pre-1919 buildings, including Hillsborough Fort and Courthouse, Ballycopeland Windmill, Bellaghy Bawn and Carrickfergus Castle. As well as this repair work, many of George's day-to-day tasks include the manufacture of specialist building components such as gothic doors, windmill sails, sash windows and gun artillery carriages. Indeed, it is the creative side of the job that he enjoys the most.
He commented: "From a young age, joinery was all I wanted to do and it gives me great job satisfaction. Taking a piece of raw timber and turning it into a door for a historic building certainly gives me a lot of pride."
George's skills and dedication to this conservation, repair and maintenance field were recognised when
he was awarded an MBE for services to the Department of Environment for Northern Ireland in 2004.
For more information on the National Heritage Training Group, please visit: www.nhtg.org.uk.
Ulster Star
16/01/2009