Art workship marks anniversary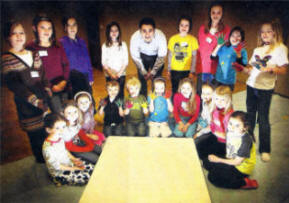 PRIMA Gusto Coffee House on Harry's Road celebrates its first year in business this month and to mark the anniversary some of the local children took part in an Art Workshop organised by Jacqueline Boyd and Karen Hewitt of jkevents. 20 children in total attended the workshop which began with a tour of the coffee shop and then a brain storming session.
The children sketched out some ideas relating to the Coffee House and Deli and then set to work on creating the images on canvas.
With expert tuition from Jacqueline Boyd the children have created four spectacular large canvas paintings. One of the paintings is a collage of colourful handprints from the children who took part in the workshop.
The four paintings are on display now for all to enjoy whilst sipping coffee or enjoying lunch.
Ulster Star
20/02/2009