Vandals' `devastating' attack on new Belfast Hills building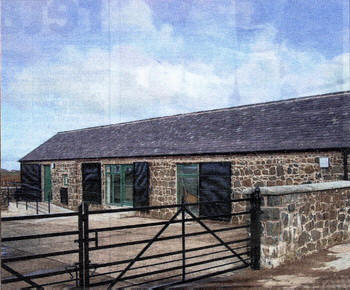 HUNDREDS of pounds worth of damage has been caused to a new Long Barn facility by vandals broke into the facility at Divis and Black Mountain last Friday night.
They used bolt cutters on the steel shutters and main door to gain access to the facility, which has been open for just five months.
Once inside they attempted to steal a flat screen TV which was bolted to the wall and used a sledge hammer to break down doors, damage a coffee machine and ransack the warden's office.
Hilary McGrady, the National Trust's Regional Director for Northern Ireland, said; "Earlier this year, demonstrating our commitment to providing Access for All', the Trust was delighted to open the Long Barn visitor centre and a Changing Places facility on the mountain.
"To witness it now, only a few months later, in its current vandalised state is devastating. "This is sad for the staff and volunteers, but more importantly for the people who access and enjoy this beautiful space on a regular basis."
Mike Dobson, Property Manager for Belfast added: "The Long Barn visitor resource was to be a welcome addition for all visitors to this dramatic landscape. It already provides a meeting place for local communities and many groups who regularly access the mountain and visitors who frequently drop in.
"Many called in on Saturday to convey their sadness about the damage. Like us, they cannot understand why this community facility was singled out. I would appeal for any witnesses or anyone who has any information which may help the police to contact their local PSNI."
"This mountain just continues to grow in popularity and within the hearts of the local communities. Since the original acquisition we have continued to work with Belfast Hills Partnership and local communities to preserve and protect the rich and varied
wildlife on the mountains and have welcomed over 100,000 visitors which is so rewarding to all involved.
"That anyone would attack this special place just doesn't make any sense at all," Mike concluded.
Ulster Star
21/08/2009